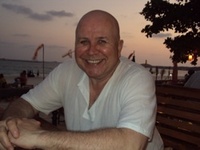 LoveClients does for small businesses, what LogCap4Jobs does for those seeking a LogCap IV Job. We both assist our clients to put their best foot forward.
(PRWEB) February 8, 2011
When Bruce Diggs, founder of LogCap4Jobs.com, had an idea for a new business, he went looking for an SEO Company (Search Engine Optimization) to help build and market his website, and further his business. From a simple idea with a well defined market, to $250,000/year in revenue, the time and investment in finding the right firm has paid off handsomely.
LogCap4Jobs.com was launched in late 2009, and you won't get a hard sell from Bruce about his service. You have to understand clearly what it is you're getting into: long working days, crowded living conditions, extreme heat, extreme cold, dirt, flood, snakes, scorpions, and camel spiders; add to the fact that you'll be working in a war zone complete with rockets, mortars and small arms fire falling from the sky.
"Each hire can cost the employer about $25,000 to get a candidate mobilized after performing a rigorous background check, medical screening and providing orientation", Bruce states emphatically, "Contractors simply can't afford to hire job candidates who don't have the potential to work out. They want solid, reliable employees who bring their best to the workplace every day — especially on a LOGCAP project. They value employees who are clear communicators, self-motivated, team players, hard working and honest."
SBA (U.S Small Business Administration) estimates that 95 percent of small businesses fail, and that's in part because most small business operators jump into a new venture without adequate preparation or guidance. They build businesses in an overly competitive market, or simply present a value proposition that would not be deemed attractive to their target audience. Building a profitable business is as much about the preparation, planning and execution, as it is about delivering the right product or service.
LogCap4Jobs and LoveClients achieve 300% growth in under 12 months.
"LoveClients does for small businesses, what LogCap4Jobs does for those seeking a LogCap IV Job. We both assist our clients to put their best foot forward. It has been a great collaboration so far! LoveClients helps me to generate more business, and I help my clients land their dream job. Win / Win / Win!" says Bruce Diggs.
About LogCap4Jobs
No matter what your field of expertise, LogCap4Jobs can assist you by reformatting your resume and turning it into the customized, highly optimized attention getter it must be in order to maximize your chances of being called by the LOGCAP recruiters. LogCap4Jobs has its finger on the pulse of the LOGCAP recruiting industry providing you with a totally unique service specifically designed to meet today's challenges and those of tomorrow in assisting you of securing a lucrative, high paying LOGCAP job.
About LoveClients
LoveClients is a premier search engine marketing agency, specializing in paid search (pay-per-click) marketing and search engine optimization (SEO). LoveClients is focused on getting clients' websites found in the major search engines - boosting their traffic, and hence their revenue. LoveClients has extensive experience delivering exceptional return on investment to clients across a wide range of varied industries. LoveClients SEM clients operate in more than 35 countries across the globe and is the only global Search Engine Marketing firm open 24x7 - 365, offering affordable SEO Packages.
###