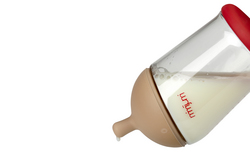 "The bottle has exceeded our expectations and been a big help for thousands of moms. We started with a simple design and it has turned into a revolution." Dr. Frank Drummond
Nashville, TN (PRWEB) February 21, 2011
Across the US and Canada, new moms are being introduced to a new type of baby bottle. Lactation specialists, nurses, and physicians are introducing the mimijumi "Very Hungry" bottle as a way to make it easier to breastfeed longer.
Karen Todaro, a Registered Nurse and International Board Certified Lactation Consultant, owns Bosom Babies, a breastfeeding and baby boutique in Covington, Louisiana. She states that mimijumi's "Very Hungry" baby bottle "is so breast-like in appearance, that when Mom starts with the 'Very Hungry' bottle, babies are less likely to have a problem transitioning between breast and bottle."
For thirteen years, Todaro has worked with mothers and their lactation needs. In 2005, Todaro opened her Bosom Babies retail store.
When describing the advantages of the Very Hungry baby bottle, Todaro remarked, "I've had success with this bottle, even with babies up to 7 months old." She recommends it for not only bottle-picky babies, but for all newborns as an aid to prolonging breastfeeding, a natural way to enhance immunity, and prevent obesity and diabetes later in life.
Todaro describes the nipple on the mimijumi bottle as, "more like a breast so the baby 'latches' onto the nipple, as they would latch onto the breast. This is why they will do better going between the breast and the bottle when using the mimijumi." She also notes that the baby must latch to make the mimijumi bottle express milk. Regular bottles flow freely, causing some babies to prefer them to the breast.
Dr. Frank Drummond, president of mimijumi, LLC, describes the acceptance and reviews of the Very Hungry bottle as "inspiring". Drummond continues, "We designed and created a bottle that appeals to today's modern family. The 'Very Hungry' bottle enhances the critical physical and emotional bonding."
Free of BPA and phthalates, the nylon bottle is easy to clean, has a wide mouth for easy filling, a screw on one-piece nipple, and a non-skid base. The soft silicon nipple is textured and colored to resemble skin, and includes an integrated ventilation system to aid in the baby's digestion.
The "Very Hungry" baby bottle and nipples are available in retail stores in the US and Canada as well as online.
About mimijumi, LLC:
Based in Nashville, TN, mimijumi, LLC was founded in 2008 by a team of psychiatrists and designers with a goal of creating infant care products that revolutionize the parenting process. http://www.mimijumi.com
###