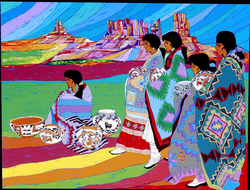 A number of the next generation will bring 21st Century versions of traditional Salish art from the Northwest, traditional Isleta Pueblo pottery and modern Navajo drawings, along with more...
Mission Viejo, CA (PRWEB) February 15, 2011
Beginning February 18, 2011, visitors will discover both the traditional and the next creative step of our First Americans' artistic view. October Featured Artist, Amado Peña, Jr., will display his always breath-taking iconic Southwestern drawings. Noted Cherokee artist Patricia McAllister will display her modern vision of the Plains and Woodland experience. And a number of the next generation will bring 21st Century versions of traditional Salish art from the Northwest, traditional Isleta Pueblo pottery and modern Navajo drawings, along with exquisite jewelry, buckles and belts of Navajo and Santo Domingo Pueblo design; and more.
Headlining the show within a show is internationally famous Amado Peña, Jr., returning to Palm Springs Arts Festival with his distinctive Southwest images. Amado's art (viewable at http://penagallery.com) celebrates the strength of the Native American peoples of the Southwest, who met the harsh realities of life in an uncompromising land. His work is a tribute to those who survived by living in harmony with an adversarial, untamed environment.
Also returning is noted Cherokee painter, Patricia McAllister of Arizona, whose paintings have wide appeal among women and horse lovers. "I couldn't resist. I wasn't planning on buying anything this time, but I had to have her watercolors!" said Sharon from Mission Viejo, California, at the January Palm Springs Arts Festival. Many of the faces in Pat's portraitures are from her own family; that connection is possibly why her art tugs at our own hearts.
The Native American artists joining Amado and Pat have been recognized as exceptional, evidenced by their selection by jury to display for the Autry Museum Indian Market, Heard Museum and "The Gathering" shows.
Abraham Begay is considered by the Dine (Navajo) nation as one of the leading silver jewelry makers of his time. He has won awards for his outstanding jewelry work at Native American shows across the United States. He specializes in traditional and contemporary art, 14k, Sterling Silver, set stones, and inlay jewelry. His silversmithing and design is exceptional. He is based in northern Arizona.
James and Doris Coriz of Santo Domingo Pueblo, New Mexico, make jewelry in the traditional Santo Domingo way and use excellent Kingman and Sleeping Beauty Turquoise. They are famous for their skill in making hand rolled and cut beads known as "heishi". Made from shell, turquoise, and other stones, they are painstakingly cut by hand into delicate beads and strung on necklaces. They each learned the art of jewelry making from their parents and have taught it to their children; truly a family affair.
Peter Boome is an enrolled member of the Upper Skagit Tribe in Washington State; and an enrolled member of the U of Washington Law School. Peter specializes in Coast Salish designs in several mediums. In addition to the Salish designs, he also creates Contemporary Intertribal Art, this influence stems from spending the latter portion of his childhood on the Northern Ute Reservation in Utah.
Rowan Harrison of Navajo and Islata Pueblo heritage. Living in Fullerton, California, he practices his art in the mediums of ceramics, painting, drawing and pottery making and considers ceramics and pottery his most proficient skills. Yet his pottery would not be as beautiful without that drawing and painting talent. His hand-built pottery is burnished smooth so the paint will flow freely. Each piece is hand painted, orchestrating inspired patterns across the surface, capturing something fresh and innovative.
Starting a new tradition within the Palm Springs Arts Festival, this Indian Market will be an integral event each February festival.
On February 18-20, 2011, at the Festival Grounds in Palm Springs, 125 fine artists and artisans will display a wide variety of both fine art and quality craft offering every level of art lover the perfect opportunity to begin or to add to a collection and meet the works' creator. Featuring contemporary watercolor and oil paintings to Southwestern pottery and images, Navajo and custom jewelry to monumental sculpture and wildly colored glass art to photography and much more to dazzle your eyes!
Relax in the Beer and Wine Garden presented by the Palm Springs Lions Club while enjoying a variety of vintage music. International recording stars. Evaro Family, Palm Spring High alumni and honorees of a Star on the Palm Spring Walk of Stars, along with others, will entertain each day. To ensure that you have the energy to see all the artists, delectable food and drink are available in the food court.
For an additional treat, the Palm Springs Lions Club will be cooking up their 'World Famous' Pancake Breakfast from 8-11am on Saturday and Sunday. The proceeds from the breakfast go directly to their projects serving community, youth and sight conservation.
All are welcome. Admission to the Festival is $5 for adults; under 18 and active Military are FREE! Parking is FREE! The venue is handicapped accessible, however, only Service Dogs are allowed.
Palm Springs Arts Festival invites you to join with our sponsors and community partners to benefit Desert Cancer Foundation, and several civic and educational organizations through partnerships and networking.
We also wish to thank our Community Partners: Riviera Palm Springs, Palm Springs Cruisin' Association, Evaro Family, Frances Cummings, Palm Springs Lions Club, and Yucca Valley High School Visual and Performing Arts Department.
About Palm Springs Arts Festival: Palm Springs Arts Festival (PSAF) is a group of art enthusiast professionals with years of event production experience seeking to provide Palm Springs, and the surrounding Desert Resort Communities, with the highest quality arts and entertainment experience. PSAF works with local businesses and civic organizations to promote Palm Springs and to support both local civic and charitable organizations. For more information, please go to http://PalmSpringsArtsFestival.com.
# # #