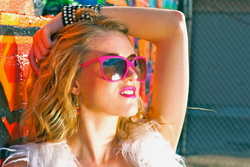 I feel honored to be supported by Grammy and Billboard winners, I'm super inspired and motivated to keep things going!
Hollywood, CA (PRWEB) March 2, 2011
While many in Hollywood were dodging the limousines shuttling music stars to their hotels and parties on the eve of the Grammys, over 1000 loyal "indie" music fans, media and celebrities with the right "hook ups" flocked over to the legendary SIR Studios in Hollywood to watch the popular eWorld Music Awards show. In this exclusive Grammy week show, a noteworthy award went to a deserving artist, Nadine Casanova.
The beautiful looking and sounding 21 year old singer/songwriter/pianist Nadine blew everyone away as she took the stage performing an inspirational song. She was surrounded by Billboard and Grammy winners at this "other Grammy week" event that gives recognition to top innovators and independent artists . She won the eWorld Music Awards "Spirit Award", the highest achievement of any independent artist that recognizes their exceptional talent, dedication, and excellence. It was voted on by an all-star team of Grammy, Billboard and Emmy nominees that agree that this Indie artist is most likely to grow in the coming year onto the Grammy platform. She hasn't won a Grammy yet but she sure is on the way!
"I feel honored to be supported by Grammy and Billboard winners, I'm super inspired and motivated to keep things going!", exclaimed the rising star after she exited the stage.
The 3rd annual eWorld Music Awards recognized the top independent music artists from around the world and finalists were chosen to perform on the evening where the winners were announced. The entire event, including the pre-and post-party activities, was broadcasted live and filmed. It is being edited for online broadcasting via eWorld's Boomerang Media Station.
eWorld is an online technology and entertainment company. The Judges for the show included Billboard Award winning producer Drew Lane, Fames Games co-creator and music producer Paul Sekowski, and Emmy and Ace Music Award winner Chris Donovan. The show was directed by Grammy-winning director Tom Trbovich ("We Are the World"), Executive Consultants are Emmy and Ace Award Winner Chris Donovan and TV legend and Emmy wining producer John Hamilton. Momentum Entertainment was executive producer.
The eWorld Music Awards recognizes talented artists who can compete in either the Live categories (best band, best female artist and best male artist) or Online categories (which cover a broader range of music genres). All of the nominees receive online votes by their fans. The top three artists in each of the Live categories play live at the show with the winners in each category being announced by celebrity peers. The awards show also recognizes excellence in achievement. Nadine won in this category among leading innovators like former MCA Urban President Ernie Singleton ( over 139 Gold and Platinum records) and Music Publishing guru Jonathan Stone.
About Nadine Casanova: Nadine Casanova's music and fan site is http://www.nadinecasanova.com
###