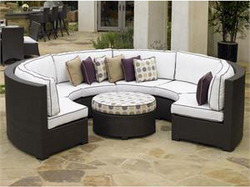 Grand Opening Sale! Save 5% and get free shipping on all orders at FurnitureForPatio.com
Chicago, IL (PRWEB) March 9, 2011
My New Stores, Inc. is pleased to announce the grand opening of FurnitureForPatio.com. Furniture for patio features a great collection of patio furniture and outdoor decorations from top patio manufacturers. If you are looking to add some outdoor decorations to your home this spring and summer, take advantage of the grand opening sale at FurnitureForPatio.com. For twelve days only customers can save 5% and get free shipping on any order by entering the coupon code GRAND5 during checkout.
Customers can save 5% off and free shipping on any patio furniture order by entering in the coupon code 'GRAND5' during checkout. The shopping cart will show the deduction before any billing information is requested. All products on the site will be eligible for the savings.
After months of development, designing, and marketing FurnitureForPatio.com it is now finally announcing the Grand Opening of their online patio furniture store. In an attempt to maximize the effectiveness of the the Grand Opening, all customers can take advantage of the sale on great patio furniture and outdoor decorations to get their home ready for spring and summer. The weather is quickly changing and the cold weather will soon be an after thought. The timing of the Grand Opening sale and the vast product selection available at Furniture for Patio, makes this a great opportunity for consumers to save on great outdoor products.
A great quality that makes FurnitureForPatio.com stand out from the competition, is that most products can be customized to the specifications of a customers. For example, most patio sets can be personalized by table size, number of chairs, types of chairs, finish color options, and custom fabrics for cushions. Some products offer consumers their choice of over 100+ outdoor fabrics to cover their cushions. This allows for all customers to be able to add personalization to their furniture, so that it will match the decor of their home and allow them to show some personality with their furniture.
Patio Sectionals
The website features a great collection of patio sectionals in a variety of styles and materials. The site features a variety of l-shaped sectionals, modern circular Sectionals, cast aluminum sectionals, and wicker sectionals. These patio sectionals provide a great atmosphere for outdoor living and conversations for friends and family.
Patio Dining Sets
One of the most popular categories on FurnitureForPatio.com are the patio dining sets. Patio dining sets are available in variety of oval, round, and square table shapes. Customers are also able to choose from a variety of chair options. Most of the patio dining sets are available with swivel rocker chairs, arm chairs, or armless dining side chairs. The site is filled with a variety of cast aluminum dining sets, teak dining sets, wicker dining sets, Polywood dining sets and more. Hi-Top table sets are also available for a more casual outdoor dining option.
Patio Decor
The online store also features a great collection of patio decorations to personalize any patio. Adding bird feeders, hose holders, planter boxes, welcome mats and more give consumers the opportunity to enhance the overall look and feel of their outdoor living space. Adding simple patio decorations are an easy and simple way to add a personal touch to any backyard.
Furniture for Patio is a online patio furniture store featuring fine furniture and outdoor accessories. The store offers quality furniture at affordable prices in a safe and secure shopping environment.
###