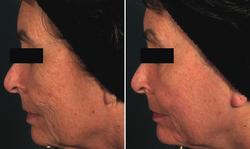 I came to Laser Clinique, seeking alternative treatment for surgical scarring. Dr. Ataii explained different options that could aid in healing my neck and we decided to try the TotalFX. It definitely stimulated the collagen and broke down scar tissue.
San Diego, CA (PRWEB) March 12, 2011
Millions of Americans seek relief from the signs of an aging complexion, which includes fine lines, wrinkles, enlarged pores, age spots, sun spots and uneven skin tone and texture. Laser Cliniqúe, San Diego's premier medical spa, is proud to offer TotalFX fractional laser resurfacing technique. This procedure is the latest treatment for painlessly and efficiently eliminating the signs of aging.
For today's more active population, the prolonged healing time involved with conventional laser or face-lift surgery is not appropriate. Dr. P. Alexander Ataii, Medical Director of Laser Cliniqúe, offers TotalFX for patients seeking a less-invasive, highly-effective skin rejuvenation procedure because it treats fine lines, pigmentation, enlarged pores, age spots and uneven skin tones in a single treatment. Patients typically only experience five to seven days of downtime. TotalFX also helps scarring, such as deep pitted acne scars, due to the increase of collagen stimulation with this treatment.
The treatment does more than soften the appearance of imperfections; it can actually eliminate evidence of sun damage and aging, providing a comprehensive and long-lasting solution. In fact, improvement continues long after treatment. In the months following treatment, new collagen is generated deep in the skin, plumping it, improving its elasticity and continuing the improvement of the texture of the skin.
During the procedure, a high-energy beam of laser light is used to smooth out lines, wrinkles and scars, and remove dark sun spots and other irregularities, layer by layer. The Encore Ultrapulse CO2 laser that performs the procedure is a proven gold standard laser in skin rejuvenation that tightens skin and leads to collagen and elastin production.
For more information on TotalFX and other anti-aging treatments, please visit Laser Cliniqúe's website at http://www.laser-clinique.com or call 858-481-7701.
###