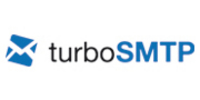 New York, NY (PRWEB) March 18, 2011
turboSMTP Corp, a fast-growing professional SMTP service provider, today announced a co-marketing partnership with eDisplay srl, the leading provider of the award-winning email marketing software SendBlaster. Through this partnership, users of SendBlaster now have the ability to get a free, limited-use turboSMTP account, which will let them to fully evaluate the service' performance, with no configuration or registration needed.
A simple wizard, which is included in the latest version of SendBlaster, will configure the parameters necessary for using turboSMTP with SendBlaster. Users will then be able to send up to 100 messages, either with a single mailing or with multiple mailings, without the need to configure to set anything additional.
After the 100 messages limit has been reached, users can choose the plan that best suits their needs, between prepaid packaged and monthly/yearly convenient subscriptions.
"We are very pleased to be working with eDisplay srl" - said Ramy Eltarras, CEO of turboSMTP - "It give us a great opportunity to demonstrate the value of a dedicated SMTP service to the large community of SendBlaster users. The combination of SendBlaster with turboSMTP will let them to send out their mailings more effectively, without worrying about ISPs restrictions and poor email deliverability."
About turboSMTP
turboSMTP is a secure and professional SMTP mail service that can meet the needs of any business, ensuring maximum email delivery rates and allowing to reach recipient's inbox avoiding spam filters and black/grey lists. turboSMTP offers full support for DKIM, Domainkeys and SPF to all customers.
More detailed information about turboSMTP service and prices are available at the following website: http://www.turbo-smtp.com
turboSMTP CORP
505 East 14 St
10009 – New York – NY
marketing AT turbo-smtp.com
###