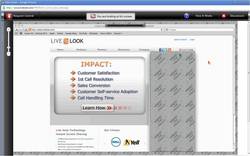 Matawan, NJ (PRWEB) March 2, 2011
LiveLOOK, Inc. announced a security enhancement to their Co Browsing service that allows a company's sales and service representatives to see on their customers' computers only their own company's own web pages, as defined by URLs or page titles. Every other application on the customer's computer is masked for privacy and grayed out from the agent's view, helping firms meet today's stringent information privacy requirements. Further, the service can mask specific fields containing sensitive data such as Social Security Number or Credit Card Number from the company representative.
Confidential information can be inadvertently exposed during a screen sharing session as simply as an email message popping on the screen, an incoming chat message or an open web page. Financial services firms, healthcare companies and online retailers are now able to safely assist their online customers by looking at only allowable information on the customers' screens. Previously the lack of privacy controls combined with Payment Card Industry (PCI), SEC, and HIPPA compliance regulations prohibited companies from using this type of technology because the risk of exposing personally identifying information during a screen sharing session was too great.
"The Web will become even more central to the consumer relationship. Thirty-five percent of eBusiness and channel strategy professionals indicate that their companies believe the Web serves as the centerpiece of their relationships with customers. These business leaders anticipate a sizeable shift: 55% expect that the Web will serve as the centerpiece of their customer relationships in the future." according to an independent Forrester Research Forrester Research, Inc. February 12, 2010 report, Developing an Online Customer Service Strategy. Leading innovative companies are moving screen sharing capability from advanced technical PC support teams to front-line sales and service teams who work with customers every day to deliver superior service and enhanced customer experiences. They are also now able to show customers how to do things for themselves online without having to call the support center in the future.
Cloud based co browsing services can be deployed very rapidly since there is no hardware or software to deploy. "Due to these security capabilities, LiveLOOK is being deployed at some of the world's largest global financial services firms who are providing live help to customers with a wide array of activities such as providing personal website tours to new customers, assisting commercial clients complete complex transactions or simply helping consumers login to the site." commented Linda Ziemba, EVP LiveLOOK.
About LiveLOOK
Founded in 2007, LiveLOOK, Inc., is a leading provider of live online help and customer interaction tools that enable companies to use Sales 2.0 tactics to meet customers' changing communication needs. LiveLOOK products establish instant visual connections between customers and sales/service staff to allow representatives to view customers' screens or customers to view representatives' screens in real time. LiveLOOK is a registered trademarks of LiveLOOK, Inc. in the United States and/or other countries.
For more information, press only:
Enzo Bacelo 732-960-9605, EBacelo(at)livelook(dot)com
For more information on LiveLOOK: http://www.livelook.com
###