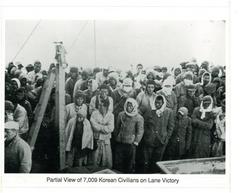 San Pedro, CA (PRWEB) March 1, 2011
A "Major, Spectacular" day long Korean Event to Commemorate the SS Lane Victory carrying over 7,000 Korean Refugees to Safety in 1950, set for Saturday, March 12th, 2011 in Los Angeles.
The San Pedro based WW2 merchant ship SS Lane Victory, played a significant role during the Korean War. In December 1950 the 455 foot long ship, with a usual crew complement of around 60 seamen, rescued 7,009 Korean refugees from Wonson in North Korea, and transported them to safety in Pusan, in the South. The ship is now at Berth 94 in Los Angeles Harbor,
next to the Vincent Thomas Bridge in San Pedro, California.
To commemorate that rescue effort, a big, day long celebration is set for Saturday, March 12th, 2011, with festivities from 9am to 4pm. Greg Williams, one of the organizers of this first-of-its-kind-event, and a Lane Victory volunteer, said, "Although the Korean conflict is now just a forgotten memory in many peoples minds because it happened so long ago, what the Lane did in that hour of need for the United Nations forces fighting that war, is a significant part of America's military history. Since our ship is berthed in Southern California, and with the knowledge that this part of the USA has a large Korean population, I wonder how many Korean nationals know of the part our ship played in that now distant event of the1950s." Williams noted that an intriguing sidelight to the saga of the evacuation, was that when the ship arrived in Pusan, the passenger count had increased to 7,010 - a baby had been born while the ship was at sea.
Williams went on to say that this would be the biggest, and most comprehensive "event" the Lane Victory has ever created for the public. He noted there will be a special Welcome Aboard ceremony for invited guests, including Mr. Jongmoon Kim, the Consul/Vice Director of the Korean Cultural Center in Los Angeles, as well as the playing of the American and Korean national anthems. Both countries will have key speakers talking about what took place in that war, and the part played by the SS Lane Victory.
Korean dance troupes will perform, martial arts demonstrations will be given, and a variety of stories from that era will be presented. This includes, according to Williams, "a fascinating lecture presentation on "The Evacuation of Wonson and Hungnam Harbors" during that time. In addition, and at various "strategic places" aboard the ship, will be a variety of American and Korean food kiosks.
Additional information about the SS Lane Victory:
The SS Lane Victory was one of the last cargo merchant ships built in WW2, and came off the Los Angeles shipyard slipways as vessel number 534 in the summer of 1945. She is also the last fully operational surviving Victory ship left in the world, and has been the location site for hundreds of movies and TV shows including such films as Titanic, and TV shows like Murder She Wrote. She traveled the world doing her job, including her valuable stint in the Korean conflict, but in 1971 she was put to rest in Suisin Bay, California. Then, in 1988 she was given to the United States Veterans of World War 2 by President Reagan and declared A National Historic Landmark. Every July, August and September, portions of the experiences of a WW2 convoy are recreated, and include an exciting "aerial attack" by "enemy" fighters that are held off by the ship's guns (that fire blanks). For more information about the cruises, call (310) 519-9545.
Additional information is on the ship's website http://www.lanevictory.org. For donations and sponsorship opportunities, call Greg Williams at (562) 708-1550 or email gwilliams(at)blaircommercial(dot)com
###