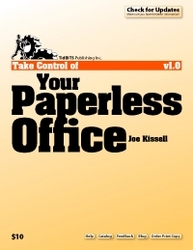 Carrollton, TX (PRWEB) March 21, 2011
Best-selling author Joe Kissell is posting the entire contents of his popular ebook "Take Control of Your Paperless Office" as "tweets" on Twitter. Starting Monday, March 21, 2011 at noon EDT, Kissell will begin sending the book to Twitter, thus making it freely available as a series of brief segments. For those who prefer to read the ebook in a more conventional, continuous format, the ebook's publisher, TidBITS Publishing Inc., is offering a sale price of 30 percent off to all readers who follow the book's Twitter feed (http://twitter.com/zapmypaper).
In the spirit of scanning and then shredding paper documents as he recommends, Kissell will "shred" his own ebook by dividing it into individual posts of no more than 140 characters each and sending them to Twitter. The 118-page ebook breaks down into nearly 1600 Twitter-sized segments; at a rate of one tweet every 15 minutes, it will take 17 days to deliver the complete text. The project is being carried out with the publisher's permission and support.
"Take Control of Your Paperless Office," first published in November 2010, is a friendly guide to replacing printed documents with digital versions that can save space, reduce clutter, and increase efficiency. Designed to help anyone feeling overwhelmed by paper, it focuses on using Macintosh-compatible hardware and software, as well as portable devices such as iPhones and iPads, to create a largely paperless workflow.
The book, which is available only in electronic form to avoid excessive irony, helps readers develop their personal clean-up strategies and pick the proper tools to use with their Macs, such as scanners and OCR (optical character recognition) software, devices and services for storing digitized documents, and applications that help categorize, locate, and display digital document collections. Kissell describes how to convert paper documents into digitized files and offers ideas for how to organize an office workflow, with suggestions for developing day-to-day techniques that reduce the amount of time spent pressing buttons, launching software, and otherwise managing the war on clutter. The ebook normally sells for $10; the promotional discount reduces the price to $7.
Kissell has posted a page on his Web site ("Tweeting an Ebook," http://joekissell.com/paperless/) detailing the process by which he converted book to Twitter-friendly format. The page includes information on special formatting he used to improve readability for those reading the book via Twitter, and background on the technology used to post it as a series of tweets.
"In this day and age of social media," said publisher Adam Engst, "we felt that a book as important as 'Take Control of Your Paperless Office' simply had to appear in the official record of world conversation that is Twitter." He added, "Oh heck, let's just admit that we thought it was a really cool idea to post an entire book to Twitter, 140 characters at a time. You certainly can read the entire thing this way, but it's performance art as much as anything else."
A Web page providing complete details about the ebook, including a free 25-page sample, can be found at:
http://www.takecontrolbooks.com/tweet-this-book
About Joe Kissell:
Joe Kissell is Senior Editor of TidBITS and the author of numerous print and electronic books about Macintosh software, including "Take Control of Mac OS X Backups" and "Take Control of Running Windows on a Mac." He is also a Senior Contributor to Macworld, was the winner of a 2009 Neal award for Best How-to Article, and has appeared on the MacTech 25 list (the 25 people voted most influential in the Mac community) since 2007. Joe has worked in the Mac software industry since the early 1990s, including positions managing software development for Nisus Software and Kensington Technology Group. He lives in Paris with his wife and son. To learn more, visit his Web site at http://joekissell.com
About Take Control Books:
The Take Control series is published by TidBITS Publishing Inc. TidBITS co-founders Adam and Tonya Engst have been publishing highly regarded news and editorial since 1990 when they created the online newsletter TidBITS, which covers Macintosh- and Internet-related topics. The Take Control series has helped tens of thousands of readers with high-quality, timely, real-world, cost-effective documentation since 2003. To learn more, visit the FAQ at http://www.takecontrolbooks.com/faq
# # #