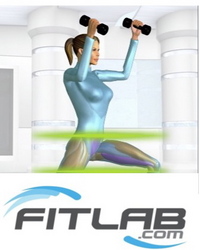 Top 3 Most Innovative New Consumer tech - PC Mag
Los Angeles, CA (PRWEB) March 9, 2011
Digital Lifestyle Solutions Introduces FitLab.com. Consumers tell FitLab what they want and it gives them what they need. FitLab.com is the first smart cross-platform, personalized workout system that makes fitness more convenient and efficient for busy lifestyles with full mobility and access on PC, Mac, TV, laptops, iPhone, tablets and other devices and screens.
FitLab is a web based health club that works people out whenever and wherever you want. Users just click start and follow along with FitLab's Smart video in real time and get worked out with dedicated sessions designed specifically for them, their goals, body type, lifestyle and their time. No print outs, or little videos and pictures to remember... just click start session and follow along.
People want to look, feel and perform better, but often can't find the time, the expertise, the access or can't afford a personal trainer. Here users choose their goals whether to lose weight, be stronger, get ripped, have better cardio health, or to re-energize and de-stress. They can even combine their goals and FitLab's Artificial Intelligence creates a new, personalized workout session specifically for them every time. The Fitness Center's interval training technology then guides users through a custom designed, time efficient, well crafted, visually engaging workout experience. Each session is personal, targeted and tailored to the consumer based on body type, time, goals and more.
The workout experience is guided by fitness expert Max, FitLab's very own virtual trainer, and workout buddies that users follow along with in real time. The system includes complete programming, channels, progress monitoring, cinema-inspired visuals and is dedicated to help consumers needs and lifestyle.
FitLab can work users out with more than 1 million customized programs available from one device to another, without being tied to a living room, DVD's or a gym, to maximize efficiency, time and deliver unrivaled results. It tracks, charts and rewards progress as its individually crafted workouts slims, shapes and tones the user's body.
"FitLab gives every consumer access to the most in-depth, intelligent personalized workout system available in a virtual health club environment to help them look and feel better," said Conor Lumpkin DLS President, "Whether you love the gym and can't make it in some days, or hate it, and will do anything to avoid it, FitLab provides an easy-to-use, convenient and affordable way to stay in shape. All you need is 6 feet of space, and 3 clicks a day. Basically you click 'Start' and FitLab's smart video works you out with a fresh new session from start to finish every time."
FitLab.com and its Fitness Center provides a real solution for this and helps people fit fitness into their daily life, not waste time, and take some of the work out of working out. FitLab also features 18 Channels; Empowerment Tools; Tracking and much more. Whether people love the gym and just can't make it in some days or hate and will do anything to avoidit. FitLab is for people looking for a new, smart and personalized way to look better, lose weight, stay in shape and improve the quality of their life. This on many levels is the future of personal fitness.
About FitLab.com FitLab offers the premier, cross-platform personalized workout experience. Built for anyone who wants to look and feel better. FitLab brings a wealth of exercise and physiology expertise right into your favorite device or screen and works you out anywhere, anytime.
###