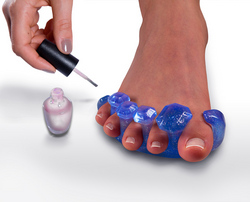 We want to offer our customers a "lite" version of our best selling product. Gems allow a wider range of people to reap the rewards of foot wellness
Ann Arbor, MI (PRWEB) March 1, 2011
For those who want a simple way to treat their feet and foot pain, YogaPro now offers Gems, a haute couture version of its popular Original YogaToes®. Gems provide the basic foot care benefits of Original YogaToes®, improving foot posture and relieving tension.
YogaPro has been a health and wellness innovation driven company for over 20 years. In 2005, YogaPro revolutionized the foot care industry with its Original YogaToes®. Gems are the newest addition to the YogaToes® line of foot care and wellness products.
"We want to offer our customers a "lite" version of our best selling product. Gems allow a wider range of people to reap the rewards of foot wellness", said Aubrey McKenzie of YogaPro. "Gems exercise and stretch foot muscles like the Originals do, but their flexibility and styling adds new dimensions".
Besides their new look, Gems can accommodate individuals with more troublesome toes. These individuals will find Gems more tolerant of cranky toes and hard to reach feet. One customer, Jennifer W. of Louisville, Kentucky, said: "I have been using Originals for the past year. When I saw Gems I just had to have a pair. My second and third toes are webbed together so high. With Gems I am able to position each separation strut as close to the webbing as possible giving me a better stretch throughout".
Owner of YogaPro Frederic Ferri recognized early in his career that foot conditioning was crucially important yet a virtually unaddressed aspect of physical health. Clearly no one could be happy with foot pain and limitations imposed by bad foot posture. Mr. Ferri created a product that could re-balance the foot and compensate for the negative aspects of being in shoes all day. The result was the Original YogaToes® toe stretchers. Gems are another step in his revolutionary approach to foot health.
All YogaToes® are designed to improve foot posture so feet stay healthy and function properly. Toes are gently directed back to their ideal position, just like postural exercise for the spine. Yoga Toes® Gems' "under-toe lift bar" stretches and extends the toes outward, away from the ball of the foot. The "separation struts" help stretch and align the toes laterally. They combine to exercise and condition the entire foot, helping with major foot disorders like bunions, hammer toes, flat feet and Plantar Fasciitis.
Gems are available now on http://www.YogaPro.com . Each pair comes with a 30-Day Money Back Guarantee as well as a Lifetime warranty. Find out more about YogaPro and their current promotions at YogaPro's Official Blog.
###