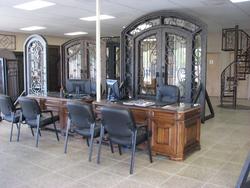 Demand has never been greater for Tucson iron doors and gates as security concerns rise. Our company has rapidly expanded production over the last five years to meet that demand. - Mark Montgomery
Gilbert, AZ (PRWEB) March 1, 2011
Mark Montgomery, Director of Sales & Marketing for First Impression Security Doors, is pleased to announce the opening of the company's newest showroom. The new location, at 6811 North Thornydale Road #101, is approximately 2,550 square feet; making it one of the largest showrooms for First Impression in the greater Tucson area.
"It's no secret that security tops everyone's mind today – both at home and at the workplace," according to Montgomery.
"Demand has never been greater for Tucson iron doors and gates as security concerns rise. Our company has rapidly expanded production over the last five years to meet that demand. We are currently reaching deeper into the local community by opening new showrooms for the convenience of our clients in southern Arizona."
It should be noted that First Impression Security Doors is not limited to the local market alone. They ship anywhere in the continental United States.
Security is no small matter and neither is the array of options available to affect it. The Thornydale Road location showcases a broad product line including:

Security screen doors
Iron entry doors
Both iron and wood gates
Pool and view fencing
Spiral staircases
Window screens
Patio furniture
Our team of professionals at all showroom locations will answer questions and make recommendations based on the individual security or decorative needs of the client. In-house design experts are also available for those wishing to add a personal touch with custom designs to many of the products available.
"We're very excited about the new Thornydale showroom. We believe it is the perfect location to limit the drive time for clients in the Tucson area," said Montgomery.
"Many people find it a daunting task to select the perfect Tucson iron gates or other wrought iron products to fit their needs with so many options available. It really helps if clients can see the different styles, quality of our products and have their questions answered first hand. It was just another step in our determination to offer the best quality service and products."
To find out more about First Impression Security Doors products and services, visit one of the convenient iron showroom locations. To arrange an interview with Mark contact:
Mark Montgomery
Director of Sales & Marketing
1440 North Mondel Drive
Gilbert, AZ 85233
Office: (480)320-4965
http://www.FirstImpressionSecurityDoors.com
# # #