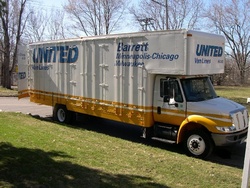 We are proud to become part of The Suddath Companies, where delivering the best in customer service holds the same importance that it has for Barrett
Minneapolis, MN (PRWEB) March 1, 2011
The Suddath Companies, headquartered in Jacksonville, Fla., is proud to announce their acquisition of Barrett Moving & Storage Company based in Minneapolis. These two industry leaders combine to create a $325 million corporation with diversified transportation and relocation service offerings. With more than 1,500 employees and 18 nationwide locations, The Suddath Companies will continue to offer globally-recognized quality service and innovation to corporations, individuals and institutions around the world.
With moving company, Barrett, Suddath now has offices in Wisconsin, Illinois and Minnesota; and has also expanded service offerings to include trade shows and exhibit displays, and special services. Suddath also gains more than 400 employees and contractors for their already expansive service base.
"We have added a well-established presence in the upper Midwest, which will expand our footprint and increase service capabilities for our customers," said Barry Vaughn, chief executive officer of The Suddath Companies. "I am most enthusiastic about bringing these two storied and highly-reputable cultures together and merging the very best of both worlds into one superior organization."
Both Suddath and Barrett share similarly modest beginnings as family-owned businesses with a strong commitment to their communities. Suddath began in 1919, with two mules, a truck and a typewriter. Barrett Moving & Storage began in 1901, hauling coal and fuel oil with two trucks. Both companies have been family-owned throughout their histories.
Over the past 92 years, Suddath has grown into one of the largest global transportation and relocation organizations with more than 1,100 employees and $285 million in annual revenues. Barrett has evolved into one of the leaders in the moving and relocation industry with 400 employees and contractors and more than $40 million in annual revenues. Both companies have accomplished a record level of achievement in every aspect of their business.
"We are proud to become part of The Suddath Companies, where delivering the best in customer service holds the same importance that it has for Barrett," said Randy Koepsell, senior vice president of Barrett Operations. "We know that we will continue a 110-year legacy of quality and innovation as part of this great new company."
With over 200 combined years of experience, the expanded Suddath Companies will continue to offer innovative transportation, relocation and logistics solutions to an ever-growing global customer base.
About Barrett Moving & Storage
Barrett Moving & Storage, an agent for United Van Lines, is an international moving agency with base operations in Minnesota, Illinois and Wisconsin. It also owns and operates Boulevard Moving & Storage, a Mayflower Moving Company based in Milwaukee. Barrett is a family business that has grown into an international industry leader. Established in 1901, the company has four locations that offer specialized, customizable services for household moves, high-value shipping and corporate relocations.
# # #