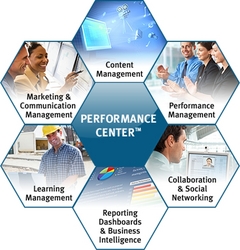 Our goal was to find a portal technology that would allow us to better communicate with our dealers and empower our customers
Providence, RI (PRWEB) March 22, 2011
LogicBay's Performance Center Unified Application Portal (UAP) is an innovative solution used to support, develop and manage distribution channels and distributed employee environments. Over 50 instances of the product are now deployed, delivering optimized channel performance for leading Fortune 100 companies.
The Performance Center UAP unifies all facets of developing and managing a distribution channel into a single, easy- to-use portal. The Performance Center's unified core technologies include MarComm Management, Learning Management, Performance Management, Content Management and Social Management as well as integrated business intelligence dashboards. Additionally, the portal capabilities of the system allow single sign-on to other dealer and customer facing systems both inside and outside the firewall.
Jonathan Dawley, Vice President of Marketing at NMHG commented, "Our goal was to find a portal technology that would allow us to better communicate with our dealers and empower our customers. Not only did we require dynamic customization for a diverse user base but we wanted leading usability and ease-of administration. To find the right solution we conducted a rigorous search for a portal technology that would meet this high bar. After extensive review, the LogicBay technology rose to the top."
"We are very pleased with NMHG's decision to deploy the Performance Center UAP to all facets of their distribution channel, including sales, service, parts, customers and more," said Paul Tobin, EVP at LogicBay. "They are a global leader and it's an excellent fit for both companies."
The NMHG deployment will be hosted and supported by LogicBay through their SaaS (Software as a Service) business model.
About LogicBay
LogicBay ( http://www.logicbay.com ) is a leading innovator in channel management, training and development. Comprised of channel experts and performance improvement specialists from a variety of well-known companies, the principals at LogicBay focus their solutions on helping customers reach, manage and develop their distribution channels, including dealers, distributors, franchisees, customers and suppliers. LogicBay's clients include Caterpillar, 3M, Daimler, Nissan, and many others.
LogicBay, the LogicBay logo, Performance Center and the marks related to LogicBay products and services are the registered trademarks of LogicBay Corporation.
About NACCO Materials Handling Group
A world leader in the lift truck industry, NACCO Materials Handling Group, Inc. (NMHG) designs, engineers, manufactures, sells and services a comprehensive line of lift trucks and aftermarket parts marketed globally under the Hyster® and Yale® brand names. Headquartered in Cleveland, Ohio, NMHG employs approximately 4,500 people worldwide and is a wholly owned subsidiary of NACCO Industries, Inc.
###