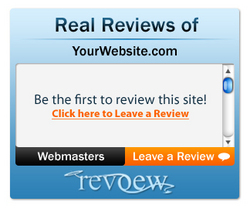 Revoew.com will soon be the standard in website reviews.
Philadelphia, PA (PRWEB) March 1, 2011
Revoew.com has announced the launch of their innovative new website review tool, which allows users to review a website without ever leaving the website. Increasingly, user reviews play an essential role in decisions made by other people. These resources offer real information to web users, and, as such, website reviews have become powerful factors in the online environment.
Revoew.com has launched a new web application for webmasters and Internet users, the first application of its kind. Webmasters are able to sign up with Revoew.com and get a free Revoew panel. The panel can be placed directly on a website, and allows users to review a website directly – the results are integrated into Revoew.com's webpage and are also displayed within the Revoew panel on the website.
For webmasters who do not wish to place the Revoew panel on their site, a simple custom button is available that takes users to the webmaster's custom Revoew.com page, where they can write a website review.
Revoew.com gives webmasters the means to eliminate the scattered, disjointed reviews for their website spread all over the Internet, by placing the Revoew.com panel directly on their site. There are several benefits here. First, placing the panel on your website ensures that your users know exactly where to go to review the website. Second, website users will be far more likely to review the website because they cannot miss the review panel. Revoew.com will soon be the standard in website reviews.
Of course, Revoew.com is also for ordinary Internet users. Thousands of people have already signed up for this pioneering new service and written reviews about the websites they love to surf, or those they hate. Revoew.com is all about user experience and sharing that experience with other people. This growing online community provides powerful tools for users, as well as for webmasters – the ability to share experiences and review a website (good, bad or indifferent) from the site in question.
To sign up and become a Revoew.com webmaster or start writing website reviews immediately, visit http://www.Revoew.com.
About Revoew.com: Revoew.com was designed for one purpose – to allow people to share their experiences on various websites on the World Wide Web. Their forward thinking platform allows webmasters to give their users the ability to write website reviews directly from their own sites, via the unique Revoew.com panel. Users can also find and review any website directly from the Revoew.com website.
# # #