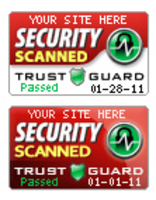 Internet professionals, website owners, and the general population have no idea how vulnerable they are when it comes to online shopping.
Ogden, UT (PRWEB) March 1, 2011
Internet veteran David Brandley voices concerns to the media over a Internet security breach reportedly affecting a large percentage of all eCommerce websites.
According to Brandley, vulnerabilities or security holes are making websites susceptible to hackers, malware, trojans and worms. Companies such as Trust Guard and Clone Systems report the number of affected sites to be as high as 85.6%. "Internet professionals, website owners and the general population have no idea how vulnerable they are when it comes to online shopping. What these Internet browsers, business owners, and buyers don't know is hurting them by the millions - it's frustrating that no one is talking about it, not even Oprah" Brandley says.
He lists three major contributing factors to what he considers the widespread problem with website security:
1. Most people falsely believe a website is safe if they see the lock icon, or SSL certificate, at the bottom of the web page.
2. The general public doesn't know much, if anything, about PCI security scanning, and how it can make a real difference in the security of a website.
3. Rarely do consumers have any idea what to look for to know if a website has had a PCI security scan.
He goes on to stress that "Internet shoppers need to be aware that an SSL certificate (represented by the lock icon) only takes your private information from your computer, across the Internet, to the website safely. The lock does not mean, however, that the website is safe".
According to Trust Guard, a premier website security scanner and trust seal provider, a website can only be truly safe if it is regularly scanned for any vulnerabilities or security holes that hackers can use to gain access to private data. "Shoppers should look for a Security Scanned seal from companies like Trust Guard and McAfee Secure or Comodo to know a website has been scanned".
Brandley concluded his statement by emphasizing the importance of education and active consumer participation in preventing vulnerabilities. "Educate yourself about websites you're not familiar with and never enter private information--even an email address--without checking things out first. Look for a Security Scanned seal and take the extra step to click on the seal to check for validity. Doing that should take you directly to the site the security seal came from. If it says it's a Trust Guard seal and it doesn't take you to their official site, the seal is a fraud."
###