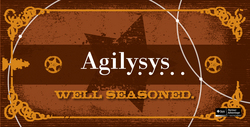 HOW spotlights the very best work from designers in top corporations, organizations and associations.
Cleveland, OH (PRWEB) March 23, 2011
Agilysys, Inc. (Nasdaq: AGYS), a leading provider of innovative IT solutions, today announced it has won a Merit Award in the HOW magazine-sponsored international In-HOWse Design Awards (February 2011 issue). This premiere award is intended to spotlight in-house design teams, an under-represented segment of the design industry. Agilysys was chosen from among 89 winning designs in the Business-to-Business Merit category for its graphic design for the 2010 Houston World Championship BBQ Kickoff Contest, an event associated with the Houston Livestock Show and Rodeo.
HOW magazine is a national design publication that recognizes the best in in-house design, including business-to-business and consumer work. According to HOW creators, the objective of the Agilysys project was to: "bolster this hardware and software reseller's image among the Houston business community." The design portrayed a "Well Seasoned" theme highlighting Agilysys as a long-standing solutions integrator with "seasoned" technology experience. The graphics were part of an integrated campaign that included T-shirts, event banners and a presentation for attendees.
The Agilysys in-house design team responsible for the project is Gerard McGowan, marketing director, Anita O'Malley, Ron McBride and June Zeringue. In addition, they have received numerous other awards for marketing and design creativity, including multiple Jasper Awards from the Jersey Shore Public Relations and Advertising Association, The Communicator Award, The Davy Award and The Hermes Award.
BOILERPLATES:
About HOW Design:
HOW magazine's goal is to help designers, whether they work for a design firm, for an in-house design department or for themselves, run successful, creative, profitable studios. HOW strives to serve the business, technological and creative needs of graphic-design professionals. The magazine provides a practical mix of essential business information, up-to-date technological tips, the creative whys and hows behind noteworthy projects, and profiles of professionals who are influencing design.
About Agilysys
Agilysys is a leading provider of innovative IT solutions to corporate and public-sector customers, with special expertise in select markets, including retail and hospitality. The Company uses technology—including hardware, software and services—to help customers resolve their most complicated IT needs. The Company possesses expertise in enterprise architecture and high availability, infrastructure optimization, storage and resource management, identity management and business continuity; and provides industry-specific software, services and expertise to the retail and hospitality markets. Headquartered in Cleveland, Agilysys operates extensively throughout North America, with additional sales offices in the United Kingdom and Asia. For more information, visit http://www.agilysys.com.
LINKS:
-Agilysys Newsroom/Blogs
-Twitter
-Facebook
###