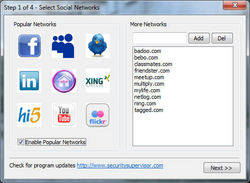 Spending too much time on FaceBook and Twitter? You got the solution!
San Francisco, CA (PRWEB) March 1, 2011
SecuritySupervisor.com, a vendor of free internet security software tools, releases a new, powerful security tool, allowing parents and employers to limit the access time for all popular social networking websites such as Facebook, Twitter, Myspace and others.
Now with free internet security controller you can securely limit the access time for any website to the strictly indicated time periods. Setting a timetable for a website is as easy as marking selected hours to green or red.
Furthermore, in addition to the website timetables, separate time limits can be set for selected websites. For example, with free internet security controller you can restrict the Facebook visiting time only from 5pm to 6pm, and no more than 30 minutes per day.
The internet security settings can be adjusted per day / per hour. In contrast to internet filters, the free internet security controller is designed especially for working with social networking sites. It does not perform other internet filtering tasks and therefore it is extremely fast and does not slow down your internet connection and computer.
Pricing and Availability
The Free Internet Security Controller supports Windows XP, Windows 2003, Windows Vista and Windows 7. This internet security tool is available for free at securitysupervisor.com.
About SecuritySupervisor
SecuritySupervisor.com is a private software company, which specializes in the software development of Internet Security products. The first internet security tool was called EmailSupervisor and was initially launched in 2005. It was mainly focused on helping the system administrators to intercept and analyze all outdoing emails from local computers. Additional information is available at securitysupervisor.com.
Editorial Contacts
ss1 at securitysupervisor dot com
+1 (866) 377-6319
###