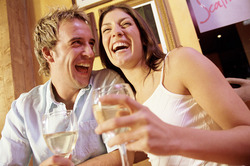 "Swedish girls have great accents"
(PRWeb UK) March 3, 2011
Scandimatch the recently launched Scandinavian singles daing service has today extended its coverage to include UK singles which has given a completely new twist to dating across Northern Europe.
Recent surveys have shown that Scandinavian women prefer to date English men rather than other nationalities. It's easy to see why, there is no language barrier - most Scandinavians speak better English than the natives and there is a common culture that makes for quick and easy intimacy. Likewise for the English who are tongue-tied in any language but their own a Scandinavian lover is a perfect choice for a foreign romance.
With all these positive factors in play its easy to see where scandimatch fits in. A woman in Stockholm can find a lover in London or in Helsinki and a man in Manchester can choose from hundreds of women in Copenhagen, Gothenburg or Birmingham without changing websites. Using all the latest dating technology the site makes searching across borders an absolute 'no-brainer' and with a choice between English and Swedish interfaces happy daters can be jumping on a budget airline for that hot date in no time at all. Interviewing a group of girls in their late 20s drinking in a bar on Esplanade in Helsinki they thought it was a great idea "We really love English guys they are more romantic than Finns!" There were similar reactions from male commuters at Waterloo station "Swedish girls are great! They are more fun than English girls and they have wonderful accents". So whilst the politicians might not be certain on European co-operation Europe's young generation are very keen to get it all together!
###