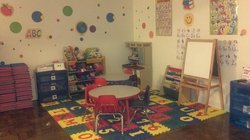 Active Children Are Happy Children
Bronx, NY (PRWEB) March 2, 2011
Wee lil Treasures is a brand new group family daycare located in the Riverdale section of the Bronx. Wee Lil Treasures provides all day child care for children up to age four. At Wee Lil Treasures is a "no couch potato" policy, children will remain active throughout the day with educational activities such as arts and crafts, letters and numbers, music, potty training, motor and other development. Lets not forget that not only will Wee Lil Treasures exercise there minds but there bodies as well.
Wee Lil Treasures will have group exercise, outings to the park, nature walks and alot more activities that promote physical activity, which is essential in fighting off obesity !!!! Our team at Wee Lil Treasures researches growing childcare trends and adapts to the needs of parents and children. Wee Lil Treasures is in a prime area in the Bronx which helps promote a healthy and safe enviornment, and deminish the stress and concern for childrens safety. Wee Lil Treasures also provides and added reassurance of safety with a top notch program managent software that provides even more Safetyfeatures.
Wee Lil Treasures believes that: "Active children are happy children."
Please feel free to check out Wee Lil Treasures website.
# # #