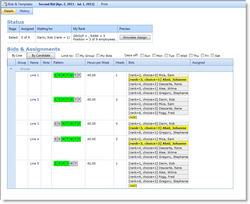 Automated, concurrent shift bidding combined with employee engagement and configurable shifts tuned to the needs of the organization is the critical missing link in managing today's staffing challenges.
Louisville, CO (PRWEB) March 1, 2011
ScheduleSource unveils ScheduleSource TeamWork 3.0 to address the immediate need expressed by companies to manage the shift rotation and schedule assignment process for shift-based employees who are assigned to work patterns on a rotation over a number of weeks or months. The new release simplifies, streamlines and accelerates the shift and vacation bid process by automating manual operations and empowering employees to submit shift requests concurrently through an online portal from any location.
ScheduleSource TeamWork allows for shift bidding to be automated while taking into account any HR, union or state requirements. By letting employees concurrently select and rank their preferences, ScheduleSource TeamWork dramatically reduces the administrative effort and cycle time to construct, launch and complete a shift bid process.
"Most schedule-intensive businesses work on a shift-rotation basis and periodically need to conduct a shift bid," explains John Durmick, CEO of ScheduleSource. "This can be extremely challenging, labor intensive and costly. With ScheduleSource TeamWork, bid administrators can easily and efficiently construct shiftbids and publish them for preview, open and close the bidding process and award shifts. Because the ScheduleSource shift bidding functionality is fully integrated with the full ScheduleSource TeamWork product set, the creation of actual schedules from the bids takes just minutes."
"The quality of an employee's schedule is one of their most important benefits, so making sure that the shift assignment is as fair as possible is crucial," continues Durmick. "Inconsistent shift-bidding policies cause confusion, breed unfairness and hurt morale. ScheduleSource's shift bidding represents an industry best practice in that it empowers employees to express their preferences in terms of shift and coworkers. A unique characteristic of the system is the ability to see one's selections in terms of the number of positions available within a shift rotation, other employees who are selecting the shift and the number of more-senior employees who have already bid a particular shift. By providing employees with a choice and allowing the system to assign shifts in accordance with seniority rules, ScheduleSource TeamWork removes any potentially unfair scheduling practices while bringing consistency, transparency and fairness into the shift assignment process."
Highlights of ScheduleSource TeamWork Shift Bidding:
-- Configurable Shiftbids - Master shift rotations can be configured to include any number or type of shifts as necessary to fulfill the staffing requirements of the organization. Each shift, in turn, may include any number of positions.
-- Multi-dimensional Bidding - Operates on four dimensions, including duration of shift rotation (number of weeks), organization of days (alternating weekends, days on/off), shifts (day/night) and job station, providing complete flexibility in designing a schedule that meets both business needs and employee desires.
-- Concurrent Bidding - Any number of employees can access the system concurrently to select and rank up to 10 shifts in order of preference. Through "bidding in depth," employees are able to secure a preferred shift, even if their top choices are awarded to more senior-ranking employees - the system automatically moves to their next preference.
-- Easy Online Access - Eliminates both the need for employees to report in person for sequential shift selection and additional support staff to conduct phone calls and process paper forms. Employees can access the system anywhere, any time, review bid selections and make changes as often as desired until the bid period closes.
-- Visibility Mode – Places the bidding process in either "open mode," where employees can view everyone else's requests, or "closed mode," where employees are restricted to viewing shift availability and their own bid selections.
-- Real-time Simulation – Allows managers and employees to simulate "shift awards" to preview the assignment of shifts based on all current bid information. Armed with this information, employees are better able to select and rank their preferred shifts and build realistic expectations about what results to expect.
-- Automatic Population of Schedules - Once bidding is complete, shiftbids are released to the scheduling system for automatic population of weekly schedules, thereby accelerating the process of rolling out new schedules.
-- Robust Seniority and Tie-breaker Ranking Options – Provide for the ranking of seniority based on original hire date, location hire date, or company-specific criteria.
-- Notification Alerts – Status alerts inform employees as to whether a shiftbid is in preview, open for bidding or closed. Action alerts serve to prompt employees to take additional action based on their individual selections.
-- Full Reporting – Reports and history logs provide visibility into the details of each shift assignment and prove that each staff member received their best possible choice.
-- Shiftbid Decoupling - Once shiftbids are assigned and inserted into weekly schedules, employees can swap shifts individually if shift-swapping is enabled and employees are authorized to do so. Management has the ability to accept or deny any schedule changes before they are logged.
"The current economy has stepped up the need for both labor optimization and flexibility," concludes Durmick. "For most organizations, however, the ability to craft flexible schedules with varying work patterns remains a challenge that directly affects their bottom line in terms of employee absenteeism and turnover, administrative costs, as well as the impact on customer service or patient care. Whether you're running an airline, call center, healthcare organization, hotel or law enforcement agency, your staff is your greatest asset. Depending on the industry, staffing needs can not only be complex, but critical. This is especially true in law enforcement, corrections and nursing. Automated, concurrent shift bidding combined with employee engagement and configurable shifts tuned to the needs of the organization is the critical missing link in managing today's staffing challenges. By automating and revolutionizing the shift bidding process, ScheduleSource TeamWork cuts administrative costs, speeds the scheduling process and boosts employee morale while freeing front line managers to focus on other business tasks."
ScheduleSource TeamWork 3.0 is available for general release. For more information call (888) 553-8881 or visit http://www.schedulesource.com.
About ScheduleSource
Founded in 1999, ScheduleSource pioneered the first Software-as-a-Service Workforce Management System and now provides both hosted and installed systems for staffing, scheduling, time/attendance and work item management. The company's mission is to deliver complete, focused and configurable workforce management systems that provide exceptional return on investment. ScheduleSource TeamWork scales to support any size organization, from a 25-person local library to the most dynamic multi-site, multi-national or high-mobility organizations employing 20,000 employees and more. In addition, robust employee self-service and mobile tools create a new level of collaboration across the organization. ScheduleSource has helped users in hundreds of private and public-sector organizations gain a new level of control over, and visibility into, the staffing and scheduling of employees and work. The TeamWork hosted system recently logged its 65 millionth shift. Based in the heart of the technology corridor between Denver and Boulder, CO, ScheduleSource enjoys exceptional relationships with its customers and takes great pleasure in delighting them every day.
###