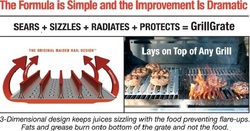 "The raised rail design is a significant advancement in grilling technology," stated Brad Barrett, president of GrillGrate LLC. "Our customers consistently tell us that GrillGrates are the best invention in grilling since the grill itself."
Cartersville, GA (PRWEB) March 1, 2011
GrillGrates are a radical 3-dimensional redesign of the traditional grill grid. Wider rails provide more surface area for conduction cooking while the valleys produce moist convection which allows juices to return to the food for added flavor. The mass of the GrillGrate converts thermal heat into radiant heat for more even cooking. The GrateTool™ is part of the GrillGrate system. It is half fork, half spatula and reaches in between the rails for easy lifting of hard to handle foods like pizza, pasta, fish, and vegetables.
GrillGrates are available at BuyGrillGrate.com, specialty hardware, houseware, and outdoor retailers. They are available in a variety of lengths and custom sizes for the Weber Kettle and The Big Green Egg. GrillGrates eliminate the need for most grilling accessories such as fish baskets and pizza stones. Get rid of all those pricey, complicated grill gadgets. Stop stressing about gas or charcoal. The transformation of the grill is at the grate!
GrillGrate LLC. is a privately owned company based in Cartersville, Ga. The product has won numerous awards including the National Barbecue Associations Top New Product, a VESTA Award from Hearth and Home Magazine for Best New Barbecue Accessory, and Meathead's (Amazingribs.com) Hot Stuff Award. GrillGrates are made in the USA and the GrateTool™ is imported. Patent pending.
###