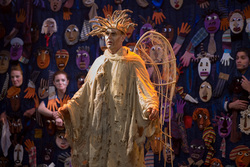 the trailblazers that change the theatre with their vision and ingenuity.
Miami, FL (PRWEB) March 1, 2011
The PlayGround Theatre's production of A Very Old Man With Enormous Wings is the cover image for March's American Theatre magazine, followed by a feature story on Stephanie Ansin, Artistic Director and Founder of the company. Author Bill Hirschman calls her shows "the most visually sumptuous productions South Florida audiences have ever seen." The piece goes on to chronicle Ansin's evolution as an artist and explores the development of her role as an audience builder. The article also previews The PlayGround Theatre's April 16th world premiere of The Red Thread, an original work inspired by ancient Chinese folktales, and mysticism.
The Red Thread is a riveting adventure for ages 8 and up, written by Artistic Director Stephanie Ansin and Artist-in-Residence Fernando Calzadilla. It is funded in part by a $100,000 grant from the John S. and James L. Knight Foundation, as part of its Knight Arts Challenge.
American Theatre is the premiere trade publication for those in the field. It showcases the finest and most innovative theatre both nationally and internationally, and profiles "the trailblazers that change the theatre with their vision and ingenuity."
For more information on The PlayGround Theatre or to purchase tickets, call 305-751-9550 or visit http://www.theplaygroundtheatre.com . Become a fan of The PlayGround Theatre on Facebook, or on Twitter @PlayGroundMiami for a behind-the-scenes look at their productions.
About The PlayGround Theatre:
Founded in 2004, the not-for-profit company has produced ten plays that delight, provoke, and inspire audiences of all ages and abilities. Productions reflect the international flavor of the South Florida community and expose audiences to a wide range of international literature, art, and culture. Since its inception, The PlayGround Theatre has hosted over 100,000 children at its productions. Visit http://www.theplaygroundtheatre.com to learn more about the history, mission, and creative vision of this dynamic theatre company.
# # #