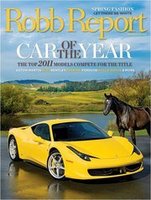 Malibu, CA (PRWEB) March 1, 2011
Praised as a "shocking demonstration of just how much improvement can be brought to an already near-perfect sports car," the Ferrari 458 Italia has been selected by the Robb Report editors and a panel of guest judges as the luxury lifestyle authority's 2011 Car of the Year.
Revealed in Robb Report's March issue, which has just hit newsstands, the award is presented to an automobile, formally introduced in the previous year, whose technical designs, styling, and performance position it as the world's preeminent sports or luxury vehicle.
In earning Robb Report's "2011 Car of the Year" honor, the Ferrari 458 Italia outdistanced 13 luxury and sports cars. The stunning Italian sports car topped (in order of finish) the Audi R8 V10 Spyder, Porsche 911 Turbo S, Aston Martin V12 Vantage, Mercedes-Benz CL63 AMG, Bentley Mulsanne, Maserati GranTurismo Convertible, Audi A8L, Aston Martin Rapide, BMW Alpina B7, Rolls-Royce Ghost, Jaguar XJ Supersport, Cadillac CTS-V Coupe, and Lotus Evora.
The selections resulted from extensive test-driving in California's Napa Valley by a panel of experts that included Robb Report editor in chief Brett Anderson, automotive consultant Robert Ross, and correspondents Paul Dean and Paul Meyers. These journalists were joined by more than 50 guest judges, including executives and Robb Report readers.
Outdistancing that highly competitive field of sports and luxury entrants, the Ferrari 458 Italia was lauded for its superb design, interior appointments, and, in keeping with Ferrari legend, exceptional performance.
"Faster, quicker- and smoother-shifting, and with lighter steering than its predecessor, the most powerful Ferrari V-8 ever does its magic without forced induction and while revving to a heady 9,000 rpm with a scorching musical note that makes paddle-shifting at redline an addiction," explained Mr. Ross.
"For our judges, editors, writers, and anyone who just happened to be wandering by, the Fly Yellow 458 Italia was adoration at first glimpse," echoed Mr. Dean. "This was before they heard the clattering bellow of 562 hp spitting from the triple-tip exhaust; before they touched, felt, and snuggled into the glovelike leather and drove this masterpiece; before they concluded that all things magnificent from Italian culture, from Michelangelo's Pietà to a 1945 Brunello di Montalcino, bow before a Ferrari."
Robb Report's "Car of the Year" announcement coincides with a Ferrari collector and investor live video chat, which is now on Robb Report TV. Offering perspectives on collecting trends and valuations is acclaimed enthusiast and collector Bruce Meyer; world-renowned restorer and concours judge Gary Bobileff, of Bobileff Motorcar Company; and David Gooding, president and founder of leading collector car auction house Gooding & Company.
Robb Report
Now in its 35th year, Robb Report is the international authority on the luxury lifestyle. The brand, in its digital and print forms, reports on exceptional products and services for the affluent connoisseur. Coverage includes automobiles, motorcycles, aircraft, art, dining, jewelry, watches, fashion, travel, homes, wines, spirits, and cigars. For more information, click here to visit the magazine's website.
# # #