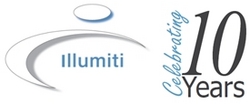 Through hard work, dedication and consistent collaboration with SAP, Illumiti has delivered outstanding performance and revenue growth in 2010, and has helped our joint customers run better with SAP applications
(PRWEB) March 1, 2011
Illumiti today announced it has been named the 2010 SAP® Business All-in-One Partner of the Year, Canada. Awards were presented by SAP Americas (NYSE: SAP) during SAP Channel Partner Summit Americas 2011, held Feb. 27 to March 1 in Savannah, Ga., to the top-performing SAP channel partners and SAP BusinessObjects™ partners in North America for outstanding contributions in revenue growth, marketing and customer service.
"SAP Business All-in-One enables us to help our SME clients optimize their operations and grow their businesses – faster, more reliably and at a lower cost than other alternatives," said Nir Orbach, founder and CEO, Illumiti. "We aim to ensure that every client becomes a reference client. Our partnership with SAP helps make this a reality, and we are both honored and thrilled to be among this year's North America Partner of the Year award recipients."
Selected from SAP's wide-ranging North American partner base, nominations were evaluated on numerous criteria to determine winning partners in each category. As the recipient of the SAP Business All-in-One Partner of the Year, Canada award, Illumiti has been honored as SAP's leading channel partner in Canada in terms of revenue generated from software license sales in calendar year 2010.
Illumiti received the award during SAP Channel Partner Summit Americas 2011, an annual gathering of SAP sales executives and partners to learn about SAP's sales methodology, best practices, business growth opportunities and product innovations. The theme of this year's summit – "Run Better Together" – prominently featured the importance of SAP's partner ecosystem. The focus of the event was on helping SAP channel partners succeed in 2011 by providing visibility into SAP's company direction, education on products, networking opportunities, and exposure to SAP leaders – all aimed at helping partners and ultimately customers run better with SAP solutions. This year's Partner Summit hosted more than 680 attendees from the U.S. and Canada.
"Through hard work, dedication and consistent collaboration with SAP, Illumiti has delivered outstanding performance and revenue growth in 2010, and has helped our joint customers run better with SAP applications," said Kevin Gilroy, senior vice president, SME North America, SAP America, Inc. "SAP congratulates Illumiti on receipt of the SAP Business All-in-One Partner of the Year, Canada award, demonstrating a strong commitment to the SAP partnership and to delivering value and satisfaction to our mutual customers."
Founded in 2000, Illumiti first established a consulting business targeting large and mid-sized customers, with a focus on delivering high-value SAP solutions at an affordable cost. In 2004 Illumiti became an SAP channel partner selling the SAP Business One application. Illumiti added SAP Business All-in-One to its portfolio in 2007, selling the solution initially in Canada and expanding to include the U.S. in 2009. Illumiti has generated double-digit growth in its sales of SAP Business All-in-One each year since 2007.
About Illumiti
Illumiti (http://www.illumiti.com) is a systems integration and management consulting company with offices in Canada, the U.S. and Switzerland, serving customers globally. Illumiti enables customers to realize their vision by leveraging technology, people and leading business practices. Since its founding in 2000, Illumiti has developed a reputation for delivering successful customer projects "faster, smarter and leaner." Illumiti is an SAP gold channel partner.
SAP and all SAP logos are trademarks or registered trademarks of SAP AG in Germany and in several other countries all over the world.
Business Objects, BusinessObjects and the Business Objects logo are trademarks or registered trademarks of Business Objects in the United States and/or other countries. Business Objects is an SAP company.
All other product and service names mentioned are the trademarks of their respective companies.
For more information, Press Only:
Dror Orbach, info(at)illumiti(dot)com
###