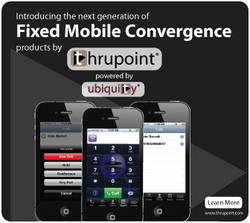 We are pleased with the success we have experienced with our new enterprise mobility products. Companies are in search of solutions that help embrace these new technologies as a means of empowering the nomadic worker. - Rami Musallam, CEO, Thrupoint, Inc
New York, NY (PRWEB) March 1, 2011
The Ubiquity FMC Suite provides a Fixed-Mobile Convergence (FMC) solution that securely connects both business oriented and consumer driven devices into the enterprise or carrier networks. The Ubiquity Mobility Gateway sits at the core of the network providing OTA provisioning and certification of end user devices - ensuring the safety and security of the information flow between the devices roaming on the public Internet over WiFi or the carrier's 3G/4G infrastructure. The gateway also serves to extend the reach of the existing communications infrastructure providing enterprise grade features to the mobile user giving them the ability to provide a uniform corporate appearance whether in the office or on the road. The Ubiquity Mobility gateway integrates with existing telecommunications servers from companies including Avaya/Nortel, Cisco, Broadsoft, and Metaswitch.
Thrupoint's Mobile Smart Client technology is designed to meet the needs of the contemporary empowered knowledge worker and nomadic workforce. Thrupoint's enterprise mobility clients integrate the mobile user into the corporate infrastructure providing access to features which integrate web and video based collaboration, role based policies, advance personal call routing. Unique to Thrupoint's solution is the industries first SIP based client on BlackBerry devices leveraging our proprietary solution for ensuring QoS over a WiFi network, ensuring that one solution can meet the needs of across all mobile platforms in a uniform and consistent manner.
The Ubiquity FMC Suite by Thrupoint has already been adopted by several companies internationally and is currently being deployed by tens of thousands of users, signaling that the product is fulfilling the demands of the rapidly changing communications marketplace.
About Thrupoint:
Thrupoint, Inc., is a leading provider of end-to-end unified communications, collaboration, and enterprise mobility products designed to meet the needs of the modern enterprise and telecommunication service providers. Thrupoint's products are designed to support the empowered knowledge worker and nomadic workforce. Thrupoint's products are developed on its award winning Ubiquity Service Broker technology - bringing true three-screen convergence, across iOS, Android and BlackBerry operating systems for the latest Smartphone, Pad and Tablet based devices.
Founded in 1996, Thrupoint is a privately held company with worldwide headquarters in New York, NY, with global headquarters throughout the world including UK, Middle East, and Africa.
For more information please visit Thrupoint's website at, http://www.thrupoint.com
Contact Information:
David Jodoin
Chief Strategy Officer
Thrupoint, Inc.
Tel: +646-562-6000
###