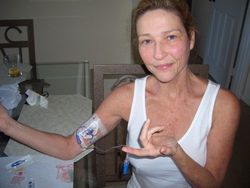 UNOS knowingly accepted a level of risk that the MELD would not capture the need for transplant.
Indiana (PRWEB) March 7, 2011
Christine Pollock needs a liver transplant urgently. Suffering with end stage liver disease due to PSC, a rare complication of Crohn's Ulcerative Colitis , she was accepted on the transplant waiting list in 2008. Pollock's doctor successfully secured an exception to the transplant rules from the UNOS Regional Review Board, and potentially a new liver, at the end of 2010. But after a periodic recertification at the beginning of 2011, the Review Board reversed course and revoked the exception, sending her cruelly down the list Now she is appealing to the public at large for a critical liver donation, and for help in getting PSC patients an exception to archaic transplant eligibility rules.
Until three years ago, Pollock worked at high-level risk management positions for a Big 4 accounting firm and more recently a top five global asset management firm.. Her career and life came to a screeching halt when she reached end-stage liver disease and was wait-listed for a liver transplant.
"Just about every part of my life has fallen apart over the last three years. I've missed many birthdays, holidays and time with my family and friends because I'm so sick and frail," said Pollock. "I've experienced multiple hospital admissions and emergency room visits along with life threatening complications. My immune resistance is very low. A rapidly spreading life threatening lung infection sent me to quarantine in the hospital for 10 days followed by 90 days of at-home nursing care. It was explained that the infection was merely a quality of life issue."
It doesn't take an accountant to see the folly. "The total cost for 3 months of at-home IV medications was $300,000, including nursing care services. A liver transplant costs about $290,000," she said. All this because Pollock suffers from a rare genetic complication connected to Crohn's disease and Ulcerative Colitis called Primary Sclerosing Cholangitis. PSC is an autoimmune disorder that results in inflamed, and eventually blocked, bile ducts.
Patients afflicted with PSC typically have excellent transplant outcomes – transplants are a definitive cure. PSC transplant recipient Chris Klug received a new liver in 2000 and received a bronze snowboarding medal at the 2002 Salt Lake City Winter Olympics. The current liver allocation model does not properly consider risks inherent to PSC. Nor does it account for the excessive and growing need for liver transplantation.
Pollock's desperate situation points to fundamental flaws in the mathematical model used to assign livers to people on the transplant wait list. The model is designed to eliminate favoritism and keep the rich and famous from queue jumping, but assigning livers according to a mere equation sidelines professional judgment. The model is not robust, has not evolved and fails to adequately consider deviation. Presently, as many as 20% of patients are at risk and poorly served by MELD.
Now Pollock is on two missions. Christine Pollock needs a liver transplant soon. Families willing to donate organs on behalf of a loved one should swiftly contact either the local procurement office within their state or the Indiana Organ Procurement Organization and request the donation of a liver to be directed to Christine Pollock, a Crohn's UC, PSC liver transplant patient at Indiana University Health. The IOPO phone number is (888) 275-4676.
Also, take action now that could save the lives of those with PSC. Request "a public proposal to formalize an exception to the MELD for PSC." United Network for Organ Sharing can conveniently be contacted by email at publiccomment(at)unos(dot)org; by phone at (804) 782-4800; or by fax (804) 782-4817.
Read Christine's story in her own words: http://online.ccfa.org/site/MessageViewer?em_id=71442.0&dlv_id=77601
###