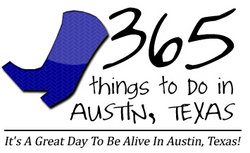 With over 7 million page views per month, 365thingsAustin.com web properties have more page views than any other Austin entertainment news site.
Austin, TX (PRWEB) March 2, 2011
365thingsAustin.com, Austin Texas' most popular entertainment web page, has announced that it has completely redesigned its site and Facebook page to better serve its enormous online community.
The latest design and layout has all-new interactive aspects, including a video page, business directory, and a pick-of-the-week spot, in which the websites' writer and founder, Kristy Owen, will highlight one of her favorite places in Austin every week. The new website was created by Kristy and Space Chimp Media , the Austin-based internet marketing company with whom 365thingsAustin.com partnered with earlier this year.
"With over 7 million page views per month, 365thingsAustin.com web properties have more page views than any other Austin entertainment news site," said Charles Haggas, co-founder of SpaceChimpMedia.com. "This new website design really describes the level of commitment and entertainment that Kristy is willing to provide for her website visitors and her more than 150,000 Facebook fans."
Aside from the new look, 365thingsAustin.com will have interactive features to engage visitors and promote businesses in Austin and the surrounding areas. The directory page has information on many of the places Kristy has written about and links to the corresponding blogs. The video page will have regularly updated videos that accompany Kristy's blog and enhance the user experience. There will also be weekly contests where local businesses can participate to support Kristy's site and grow awareness of the Austin entertainment industry. Although the look and feel will change, the daily content of Kristy's blog will be completely unaltered.
"We want to make sure that all of Kristy's fans know that even though the look has changed and the site has extra features, the scope of Kristy's blog will not change at all," said Haggas. "We simply want to give back to the fans of 365thingsAustin by giving them more interactive content, and letting them participate in the 356thingsAustin.com experience."
The new features are expected to be updated by Wednesday March 2, 2011.To celebrate the new site, 365thingsAustin.com and Space Chimp Media will be hosting an unofficial SXSW event at Stompin' Grounds in Austin on Saturday, March 19. The no-cover event will feature multiple live bands, drink specials and prizes.
For more information on 365thingsAustin.com, SpaceChimpMedia.com, or how your business can grow and interact with the new 356thingsAustin, please contact Space Chimp Media at press(at)spacechimpmedia(dot)com, or 1.800.771.1876.
About 365thingsAustin.com:
Founded by Austin, Texas resident Kristy Owen in 2009, 365thingsAustin.com is an entertainment news site that is updated daily with unique content concerning the Austin entertainment industry. Since its inception, it has become an international portal for business and entertainment in the capital of Texas. 365thingsAustin.com currently receives thousands of hits per day, has over 150,000 Facebook fans and continues to grow exponentially. In January 2011, 365thingsAustin.com partnered with local internet marketing company Space Chimp Media to build a website that is more interactive and caters to the needs of visitors and local businesses.
# # #