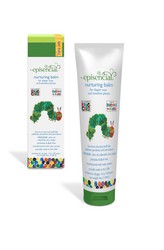 Moms and dads making healthy choices about foods innately understand the value of all-natural skincare for their babies and kids," Kim Walls, CEO of Episencial.
Los Angeles (PRWEB) March 1, 2011
Beginning today, Episencial skincare products for babies and kids will be available at an additional 59 Whole Foods locations in the North Atlantic and Northern California regions bringing the total number of Whole Foods stores offering Episencial products to more than 100. One of the country's top ten food and drug retailers, Whole Foods proudly sells the highest quality natural and organic products available. Episencial, an all-natural, immune-enhancing line of baby and kids skincare products, has been available in the retailer's 42 Southern California stores since the products were first launched in December of 2009.
"We consider the Whole Foods shopper to be among our core consumers. So, this expansion is a milestone in our overall growth strategy," said Kim Walls, MS., CEO of Episencial. "Moms and dads making healthy choices about foods innately understand the value of all natural skincare for the developing skin of babies and young children. We want to make it easy for them to find our affordable products where they prefer to shop."
With fanciful packaging featuring the beloved artwork from Eric Carle's "The Very Hungry Caterpillar," Episencial is the only company to make baby-safe, all-natural skincare products that support skin immunity and help treat common skin conditions, like eczema, cradle cap and common dehydration. With clinically effective formulas designed to support the health and development of both the skin and body, Episencial provides a protective barrier to insulate vulnerable skin, offset environmental contaminants, and help keep children safe.
Episencial's three-step skincare system is the first and only professional-quality, all natural and complete skincare system designed specifically to support the developing skin type of babies and kids.
Step 1. Bathe: Gently cleanse and hydrate for fresh, healthy skin.
Playful Foaming Wash, Sweet Dreams Bubble Bath
Step 2. Nurture: Soothe, heal, moisturize and massage to build immunity and enhance bonding.
Soothing Cream, Better Body Butter
Step 3. Protect: Prevent and treat to balance and care for tender skin.
Nurturing Balm, Sunny Sunscreen SPF 35, and Protective Face Balm.
-more-
By virtue of all natural ingredients – Episencial products reduce exposure to unnecessary and potentially harmful chemicals so prevalent in skincare products; even those marketed for babies and children. Doctors and medical professionals throughout North America use Episencial's skincare products in their hospitals.
With Episencial, actively healthy families with green values have an authentic, affordable choice in all natural skin care for their children. Made exclusively from all natural ingredients and loaded with organics, Episencial is leading the chemical-free charge in personal care products for babies and kids. Moving beyond the "greenwashed" approach typical of natural products, Episencial manufactures in the U.S. using solar power and recycled and sustainable packaging.
"Given Episencial's dramatic performance in our region, I'm not surprised to see other Whole Foods Market regions bringing these products on board for their shoppers," said Robin Rogosin Whole Foods-Southern Pacific Body Care Buyer. "I'm very happy to see Episencial doing so well. In just over one year, the brand has established itself among the top five for the baby body care category."
ABOUT Episencial skincare... healthy skin for life:
Episencial's all natural formulas feature an exclusive actively healthy immune complex to specifically care for the developing skin type of babies and kids, ages 0 - 5. Understanding the critical function skin plays in the immune system, Episencial uses advanced skincare technology to formulate its products to first lay the basis for maintaining healthy skin and then infused the base formulas with exclusive blends of natural ingredients known to protect, support and promote immunity.
Sharing these fun and inviting products – and the care and consideration that goes into making them – with children can serve as a building block for making actively healthy choices for themselves and the planet. Episencial was founded by Kim Walls, M.S., a second-generation skin care expert from the Epicuren family, who couldn't find skin care products for her babies that met her professional standards for quality and care for the environment – so, she created her own with the help of several moms and dads. Episencial products are free from the bad stuff and loaded with good stuff to soothe and protect. The entire Episencial skincare system is safe for newborns and good for the planet.
Episencial products are available nationwide. To find a retailer near you, please visit http://www.episencial.com. Got a question? Ask us at http://www.facebook.com/episencial and follow us @Episencial for deals and updates. Sales of Episencial products benefit the company's philanthropic partner Healthy Child, Healthy World and its mission to protect children from harmful chemicals. With Episencial skincare, a lifetime of healthy skin and choices can begin from day one.
# # #