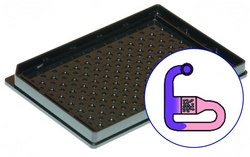 Madison, WI (PRWEB) March 1, 2011
BellBrook Labs announced the publication of studies on an enabling new approach for studying neutrophil chemotaxis entitled "Image-Based Analysis of Primary Human Neutrophil Chemotaxis in an Automated Direct-Viewing Assay", in the Journal of Immunological Methods. In the paper, Dr. Ivar Meyvantsson and colleagues at BellBrook describe how the company's iuvo™ Microconduit Array platform was used to overcome the limitations of current methods to enable the automation of highly parallel experiments to study dose-dependent stimulation and inhibition of neutrophil chemotaxis.
Neutrophil chemotaxis from the bloodstream to sites of infected or damaged tissue is one of the fundamental processes underlying inflammation. It is driven by the directional migration of cells up a concentration gradient of signaling molecules secreted by cells at the site of inflammation. The inhibition of this process is one of the main avenues for discovery of new treatments for a range of inflammatory disorders, including arthritis and chronic obstructive pulmonary disorder (COPD). However, the methods used to screen and rank potential drug molecules for their affects on neutrophil chemotaxis are relatively crude. In the most widely used approach, multiwell plate inserts with porous membranes are used to partition cells and chemoattractant into separate compartments. Chemotaxis is measured by counting the cells that pass through the membrane toward the chemoattractant in the outer compartment. A fundamental shortcoming of this approach is that it provides no information about cell appearance. In contrast, the iuvo™ Chemotaxis Assay enables the direct observation of cells during chemotaxis, which allows monitoring of cell morphology and provides clues to cell function. Full compatibility with conventional laboratory automation infrastructure, such as automated microscopy and liquid handling, allows immediate use of the direct-viewing assay plate in cell biology laboratories in both academia and industry.
About BellBrook Labs. BellBrook Labs, LLC develops detection reagents and microfluidic devices that accelerate the discovery of more effective therapies for cancer and other debilitating diseases. Transcreener® is a patented high throughput screening assay platform that was introduced in 2005 and is used to identify inhibitors for kinases and other types of protein drug targets. The iuvo™ Microconduit Array technology is a line of unique microscale devices for miniaturization and automation of advanced cell models that are more representative of human physiology. Visit BellBrook's website for more information: http://www.bellbrooklabs.com.
Contact us at 866.313.7881 or info(at)bellbrooklabs(dot)com for more information.
###