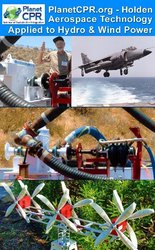 I can actually see the implementation of my energy technology able to reach and benefit people all over the world. Now, for the first time ever, I know it's about to happen.
Lake Tahoe, NV (PRWEB) March 1, 2011
Planet CPR, LLC announced today the partial acquisition of the most promising innovation in energy generating technology in the world today, consisting of the Holden HP Turbine Technology and Holden WP Turbine Technology.
Planet CPR, LLC, an acronym for "Pro-Active Living Advancing New Environmental Technologies Combining Preventive Response-Ability", recently formed a conglomerate with four separate and distinct divisions with the mission "To advance the real science of sustainable integration for the benefit of the planet and its inhabitants, by providing the complete 'true green, cradle to grave' solutions".
Holden HP Turbine and Holden WP Turbine Technology, only a concept as recently as a year ago, are now in full prototyping phase and promise to soon be delivering cheaper and cleaner power. "I am extremely excited and pleased to have finally found and aligned myself with a group that is just as motivated if not more so than I am, to positively impact the environment and our future generations" said Joe Holden, the developer of this technology.
In case the name is familiar to you, this is the same "Joe Holden" of International fame who became a war hero during both the Korean and the Vietnam Wars. Many of Holden's actions are credited with having saved thousands of lives, including securing a Russian MIG (fighter jet) from behind enemy lines in North Korea and flying it through hostile territory while under fire and wounded, back to NATO forces. During the Vietnam War, he led 17 missions behind enemy lines over a 5 year period, leading to the liberation of over 500 prisoners of war.
Holden is also responsible for many of the innovations we take for granted today. For example, he developed and stabilized the first "afterburner" in jet airplanes still used today in jets, created the first CV joint still used as a standard in all front-wheel drive vehicles today and was responsible for developing the first "thrust tubes" which are now standard on most supersonic jets.
Much of this technology was influenced during Joe's 23 year tenure with Rolls Royce. His key contribution evident in many of his design systems is the fully mechanical nature of the technology he creates. When asked what motivates him at the age of 81, Joe answered "I can actually see the implementation of my energy technology able to reach and benefit people all over the world. Now, for the first time ever, I know it's about to happen".
Planet CPR's four founders who form the core of the organization, all share a common background in having served with some of the most elite military divisions of the US Armed Forces, including Long Range Recon (US Marine Corp), Special Forces (US Army) and Special Operations (US Navy). It may be this reason alone that Joe Holden feels he has finally found the group capable of executing his global vision.
"Joe just seemed to be the natural choice for an addition to our group," said Robert Plarr, one of the founders and board members of Planet CPR. "And when Joe Holden expressed his desire to join with Planet CPR, we were thrilled". In fact, this common sentiment appears to be shared by each of the Planet CPR's board members. But the "thrill" may be more than just "like-mindedness".
Planet CPR, LLC now holds the exclusive distribution rights to the Holden HP Turbine technology as well as the Holden WP Turbine technology, both of which promise to create more excitement in the power industry than anything introduced in the energy sector over the past 35 years. In addition, Planet CPR, LLC has a substantial stake in the respective companies manufacturing both the Holden HP and Holden WP Turbines. For the investors in Planet CPR, this could indeed prove to be a huge financial windfall.
For example, according to the United Nation's Intergovernmental Panel on Climate Change, two-thirds of the growth in global electricity usage will come down to the needs of the developing world in future years, -- and mostly down to the needs of their cities. As reported by Rachel Oliver of CNN as far back as 2007, this same governmental panel expected electricity use globally to grow by 37 percent by as early as 2010, a number which was easily exceeded. By 2020, it is projected to shoot up by 76 percent.
Added Dr. Rashid Buttar, chairman of the board for Planet CPR, "When we flip a power switch that lights a room or pumps water from a well, we as a society take it for granted. But many people in the world still don't have these 'luxuries.' Our hope is one day soon, no woman will have to walk 10 miles a day just to get clean water for her family and every child will be able to flip a switch and have light by which to read."
For more information, contact:
Kristina Tusini
297 Kingsbury Grade
Suite 100,
Lake Tahoe, NV 89449-4470
United States
Ph: 1-888-882-8494
http://www.PlanetCPR.org
###