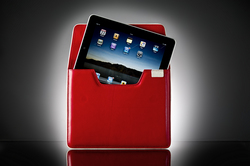 We are excited to that our product was chosen for inclusion in this gift bag for the Oscar Nominees
San Francisco, CA (PRWEB) March 1, 2011
XBLUEX, a Northern California based mobile device case designer, announced today February 28th that their leather iPad case, Sunset at Sausalito, would be included in gift bags for Oscar nominees and the hosts. Compiled by Distinctive Assets the giftbag titled "Everybody Wins at the Oscars" is said to be valued at over $75,000.
"We are excited to that our product was chosen for inclusion in this gift bag for the Oscar Nominees" stated Alp Simsir, Founder of XBLUEX. "We have received a lot of enthusiasm from the media and believe that our iPad cases are a fitting gift for the nominees." The company plans to unveil a kindle version in the near future and has a denim model available as well. Simsir adds "XBLUEX is a small company with big ideas, and it doesn't get much bigger than the Academy Awards"
The Gift bags were sent out to the following people: James Franco, Anne Hathaway, Amy Adams, Helena Bonham Carter, Hailee Steinfeld, Jacki Weaver, Annette Bening, Nicole Kidman, Jennifer Lawrence, Michelle Williams, Jeff Bridges, Javier Bardem, Jesse Eisenberg, John Hawkes, Jeremy Renner, Mark Ruffalo, Geoffrey Rush, Darren Aronofsky, David O. Russell, David Fincher, Joel Coen and Ethan Coen.
Follow XBLUEX on Facebook and Twitter for more announcements of new products or promotions.
About XBLUEX:
Founded by Alp Simsir and Bogac Simsir in 2010, XBLUEX began with the goal to fill a void in the mobile device case market. The siblings vowed to create an affordable product with high quality materials. The company is headquartered in the San Francisco Bay Area.
###