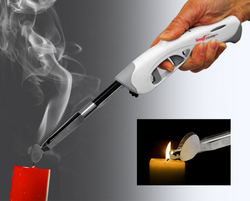 Toronto, ON (PRWEB) March 2, 2011
U.S. retail sales of candles are now estimated at a record high of 2 billion annually. Candle sales have doubled over the last 10 years and are now used in 7 out of 10 households. Fueled by this rising consumer demand for home décor and fragrance products and accessories the first true candle specific lighter was born.
The new SPARK INNOVATIONS INC. SnuffLighter® is the first true candle specific lighter that lights and extinguishes candles. The Snuff Lighter will be featured in the NEW PRODUCT SECTION at the
2011 International Home and Housewares Show in Chicago from March 6-8 at the SPARK INNOVATIONS
INC. BOOTH S4955.
Research shows that scented candles are being used on average for 3 hours or less during each use. These candles are repeatedly lit and extinguished. Due to the large increase in the use of candles there has unfortunately been a corresponding increase in fires caused by candles and burns caused by hot candle wax. The SnuffLighter® was developed and designed specifically with these safety concerns in mind.
The SnuffLighter® is simply the safest and easiest way to light and extinguish any candle. The patent pending design allows users to extinguish candles without blowing them out or burning tender fingers. Pulling the trigger extends the paddles to extinguish the candle safely. The Snufflighter* offers a unique design with multi level safety features and optimum child protection features including a safety switch and parental override for your families best protection from unwanted burns. The long flame barrel keeps the users hands away from the flame during the lighting and extinguishing process so you can use it with ease.
The SnuffLighter® was developed and designed by SPARK INNOVATIONS INC., and contains a comfortable rubber grip designed for a no slip hold. The ergonomically shaped triggers include ribs for tactile recognition and reduced finger slipping. The overall positioning of all triggers, buttons, and switches are designed for maximum comfort and aesthetic appeal. The styling reflects a sleek look with subtle curves and muted colors.
For over 20 years SPARK INNOVATIONS INC. has been an award-winning Canadian company that specializes in designing, patenting and developing innovative products. We focus on innovative electronic consumer goods, toothbrushes, house wares, baby products and sports and industrial equipment. Our in house team includes mechanical and electrical engineers, industrial designers, and experts in product management, strategy, patents, manufacturing and logistics. By providing product benefits, strong intellectual property and exceptional service, Spark Innovations fulfills the emotional wants of the consumer and the business needs of our clients. Our history of success with over 200 US patents issued is the result of a proven, strategic development process. Major companies such as Microsoft, Labatts, Lepage's, 3M and Proctor & Gamble have experienced Spark's creative talents. Headquartered in King City, Ontario, the company can be found on the web at http://www.sparkinnovations.com.
###