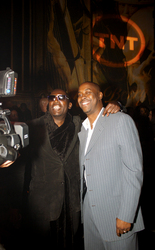 Los Angeles, CA (PRWEB) March 1, 2011
Rodney Henry's Legacy Athletic Brand (MNVN.PK) sizzled this past weekend during the company's debut over the NBA All Star Weekend. Led by lifestyle entrepreneur and CEO, Rodney Henry, Legacy Athletic Brand set the scene with star-studded events at some of Los Angeles' top nightclubs. Romanov, The Roxbury, Playhouse and Eden became houses of Legacy as the brand made its impression on thousands.
Rodney Henry was seen conversing with sports and entertainment celebrities at the Legacy-branded events as well as Kenny Smith's All Star Weekend Event, including longtime friend and TNT announcer Kenny Smith, FOX's Michael Strahan, Sugar Shane Mossley, Carmello Anthony, TNT's Charles Barkley, R&B star Keri Hilson, TNT's Chris Webber, Nichole Murphy, ESPN's Jalen Rose, TNT's Reggie Miller, John Salley, Kenyon Martin, Kenny Anderson, former NFL player and broadcaster Warren Sapp and many more.
Legacy's core business is the development, design, marketing and distribution of athletic shoes and apparel for mass markets. Legacy was founded and created by Rodney Henry who is also the founder and co-owner (along with well known investor and "CEO of Hip Hop" Ruby Azrak) of Protégé, a highly successful footwear and clothing company whose products are sold at accessible price points exclusively through Sears and K-Mart in over 3,000 stores. The North American rights to Protégé's brand and product lines are currently licensed by Sears Holdings Corporation.
About Legacy Athletic Brand, Inc.
Legacy's principal business activities are the development, design, marketing and distribution of branded performance apparel, footwear and accessories for men, women and youth. Legacy intends to sell its products worldwide to be worn by athletes at all levels on playing fields around the globe, as well as by consumers with active lifestyles interested in fashion-forward products. Legacy's initial focus will be distribution in the lower-tier and mid-tier mass market with potential expansion into the higher tier markets once brand recognition has been established. Legacy intends to apply to register several trademarks and trade names as well as license additional trademarks and trade names from their respective holders. The company intends to have numerous brands geared to differing demographics and consumer groups. Legacy will begin in the athletic arena and then carry extensions into lifestyle and casual wear. For more information, visit http://www.legacyathleticbrand.com
Forward Looking Statements
Certain statements contained herein are forward looking. These forward-looking statements are based on our current expectations and are subject to a number of risks, uncertainties and assumptions. Many factors could cause actual results to differ significantly from these statements, including our history of operating losses, our need for additional financing, a failure of our products to perform as expected, introduction of competing products by other companies, pressures on prices from competitors and/or customers, regulatory obstacles to new product introductions, lack of acceptance of our products and technology changes. These risks, uncertainties and assumptions are detailed in documents filed by us with the Securities and Exchange Commission. The Company cautions that the foregoing list of important factors is not exclusive. Any forward-looking statements are made as of the date of the document in which they appear. The Company does not undertake to update any forward-looking statement that may be made from time to time by or on behalf of the company.
Investor relations contact: Black Arrow Communications
813/347-7943 blackarrowcomms(at)yahoo(dot)com
Media contact: Dan Spelling/Brian McWilliams at Spelling Communications
213/415-7400 dspelling(at)spellcom(dot)com
###