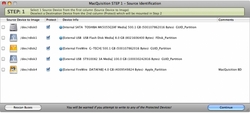 These enhancements offer Mac forensic professionals the most robust and flexible Mac imaging tool available today working with the widest set of Macs in the marketplace
San Jose, CA (PRWEB) March 1, 2011
BlackBag Technologies, Inc., a leading provider of computer forensic software solutions, today announced the immediate availability of MacQuisition 2.53, the longest running dedicated platform for forensically acquiring Macs. In addition to working with over 185 existing Macs, version 2.53 now supports Intel i5 and i7 processing architecture, enabling it to work seamlessly with the latest Mac laptops and desktops. This update also offers several important new features and enhancements including:
New dual boot options for working with new Intel powered Macs as well as legacy PowerPC Macs
Completely redesigned interface offering new look and feel along with simplified navigation
New automatic report saving mechanism
"We are thrilled to provide this latest release to our customers free of charge," commented Drew Fahey, Director of Forensics at BlackBag Technology. "These enhancements offer Mac forensic professionals the most robust and flexible Mac imaging tool available today working with the widest set of Macs in the marketplace"
For more information about MacQuisition, such as an overview video or data sheet, please visit http://www.blackbagtech.com. Read more about Mac data forensics and forensic software on the BlackBag Technologies blog at https://www.blackbagtech.com/blog.
About BlackBag Technologies:
BlackBag Technologies, Inc. provides Mac-based data forensic and eDiscovery solutions to law enforcement and private sector clients. Based in Silicon Valley, BlackBag offers clients a comprehensive and secure suite of services, software and training solutions. BlackBag acknowledges the growing challenges faced by forensic examiners and legal professionals in the field and is dedicated to creating flexible, open environment solutions. BlackBag serves a wide range of clients, including federal, state and local law enforcement agencies, as well as leading private sector security, legal and human resource professionals. Visit http://www.blackbagtech.com.
###