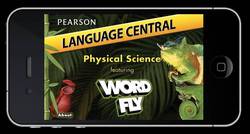 New York, NY (PRWEB) March 10, 2011
At the National Science Teachers Association's (NSTA) annual conference, Pearson today showcased three new Language Central for Science apps for students in grades 6-8. The apps are designed to help struggling students and English Language Learners master the vocabulary that is the foundation for understanding and mastering science concepts. The new apps are on display at the NSTA conference and have already been downloaded more than 30,000 times since debuting on iTunes in February.
The mobile apps cover life, earth, and physical science and take middle school students on a learning adventure with three different interactive activities: they can study with Interactive Science Flashcards; self-assess understanding with a Trivia Challenge quiz; and strengthen skills with a Word Fly definition game.
In Word Fly, students get the chance to "feed" the Language Central chameleon to reinforce their knowledge of key vocabulary. First they read a definition and think of the word that matches that definition. Then, players try to catch with their fingers the letters that compose each word as they fly around the screen. Each letter tapped makes the chameleon's tongue snatch them up, but if the wrong letter is eaten too many times, the game starts over.
Available free-of-charge on the iTunes store, the Language Central for Science apps for iPhone, iPad, and iPod touch reinforce core vocabulary instruction given in the classroom with any curriculum, including Pearson's new Language Central for Science program for grades 3-8, which will be in schools for the 2011-2012 school year.
Developed in conjunction with Fitchburg Public Schools in Mass., the Language Central for Science classroom program is a supplemental curriculum that provides students with essential vocabulary activities to help make the language of science accessible to all learners. Clear visual images along with speaking, drawing, writing, and assessment exercises provide these students with targeted practice needed to strengthen skills and encourage vocabulary acquisition.
"The goal of Language Central for Science is to directly address the academic vocabulary issues that prevent students from focusing on the science concepts being taught…We've often seen that it was the language, not the science, holding them back," said Patti Aube, Science Coach at Fitchburg Public Schools.
Other Pearson apps available today for school students include Grammar Jammers, which offers interactive animated videos to help students master the rules of grammar; Vocabulary Central, designed to help reinforce basic vocabulary and writing skills in entertaining ways, through songs, trivia games, and flashcards; and Brief Review of Global History and Geography, through which students can explore history's significant events, concepts, people, and places wherever they go. Additional apps are in the works in the areas of Literacy, Science, and Humanities.
For more information on the Language Central for Science curriculum and apps, visit http://www.pearsonschool.com/LanguageCentralScience.
About Pearson
Pearson has a vision of effective education: a virtuous circle of learning where powerful technologies enable teachers to assess students unobtrusively, diagnose their learning needs swiftly, prescribe personalized learning, monitor student progress, and provide ongoing feedback to students, teachers, and parents. It begins by optimizing assessment data and putting it to work for continuous improvement in student progress and teaching effectiveness. For more, visit http://www.pearsonschool.com.
Contact:
Rod Granger, Pearson, 800-745-8489, rod(dot)granger(at)pearson(dot)com
###