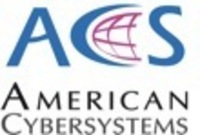 Atlanta, GA (PRWEB) March 1, 2011
American CyberSystems, Inc. (ACS) and its wholly owned subsidiary HireGenics, Inc. have been listed among the "Top 100 Diversity-Owned Businesses" in the United States by DiversityBusiness.com. Over 750,000 businesses in the United States had the opportunity to participate in DiversityBusiness.com's 11th annual business survey. The awards are based on annual gross revenue and company business profiles.
In addition to being ranked among the top 100 diversity-owned businesses, ACS and HireGenics were ranked the twenty-second Asian-owned business in the U.S. out of a group of 500.
"ACS has distinguished itself as one of the top entrepreneurs in the country and is most deserving of this award and recognition," said Kenton Clarke, DiversityBusiness.com CEO. "This award is the basis of our annual 'Top Business List,' which is seen by over 15 million people."
The Top Business List is the most comprehensive look at the most important segment of the United States economy - America's privately held companies. This esteemed, elite list is coveted by the most successful companies in the U.S. The list has become the most recognized and respected compilation of companies that truly differentiate themselves in the marketplace in a time when doing so has never been more important.
As an award winner, ACS and HireGenics will be honored at the "11th Annual National Business Awards Ceremony and Conference." The event brings together America's top business owners and Fortune 500 companies for promoting business opportunities. The event will be held at the Gaylord National Resort in Washington, DC on April 19 - April 21, 2011. The host for this year's event will be Ms. Joan Lunden, former co-host of ABC's Good Morning America. Attendance is expected to top 1200.
"ACS and HireGenics are honored to be recognized by such a distinguished organization as DiversityBusiness.com," said ACS CEO and president Raj Sardana. "It provides affirmation of our strong global IT solutions and contract-labor compliance value proposition currently being acknowledged by our Fortune 100 customers."
About HireGenics, Inc.:
HireGenics creates enterprise value through de-risking and re-balancing the customer's workforce. HireGenics provides automated payroll services to assure compliance, VMS services to optimize the contingent labor process and services procurement strategies that effectively manage deliverable based projects or services spend. Through extensive workforce management expertise, HireGenics delivers high quality, process based services at a faster pace while making them cost less for our customers. For more information about HireGenics please call Charles Halash at (248) 809-4854 or visit http://www.hiregenics.com.
About American CyberSystems, Inc.:
Founded in 1998, American CyberSystems, Inc. is a global information technology services company, offering IT consulting and staffing services, systems integration, and business solutions to organizations in a variety of industries. Through its extensive resource pool and global recruitment centers, ACS offers unparalleled expertise in delivering solutions for Fortune 1000 companies worldwide. ACS works in partnership with clients to understand their challenges, share their vision, and deliver mission specific solutions. For more information about American CyberSystems, please visit http://www.acsicorp.com.
About DiversityBusiness.com
Launched in 1999, DiversityBusiness, with over 50,000 members, is the largest organization of diversity owned businesses throughout the United States that provide goods and services to Fortune 1000 companies, government agencies, and colleges and universities. DiversityBusiness provides research and data collection services for diversity including the "Top 50 Organizations for Multicultural Business Opportunities", "Top 500 Diversity Owned Companies in America", and others. Its research has been recognized and published by Forbes Magazine, Business Week and thousands of other print and internet publications. The site has gained national recognition and has won numerous awards for its content and design. DiversityBusiness reaches more diverse suppliers and communicates more information to them on a more frequent basis then all other organizations combined. We also communicate with mainstream businesses, government agencies and educational institutions with information related to diversity. Our magazine reaches over 300,000 readers, a monthly e-newsletter that reaches 2.4 million, and website visitors of 1.2 million a month. It is a leading provider of Supplier Diversity management tools and has the most widely distributed Diversity magazine in the United States. DiversityBusiness.com is produced by Computer Consulting Associates International Inc. (CCAii.com) of Southport, CT. Founded in 1980.
###