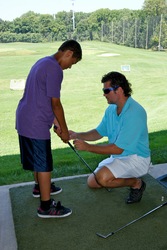 "Scott and I were hitting balls next to each other on the range. After just a few swings… he couldn't help telling me something he noticed in my swing that he thought would help. He was right on the money." Larry Jacobs
Rockville, MD (PRWEB) March 2, 2011
Scott Cole offers a variety of instruction opportunities, from his new monthly program for beginners to one-on-one full day golf schools.
Scott utilizes the V1 golf analysis software along with a high speed digital camera for full swing analysis, and applies Eyeline Golf products to his putting instruction.
For individual students, Scott starts with the full game evaluation. This evaluation typically takes about 90 minutes and addresses every aspect of the student's game. Scott pinpoints the strengths and weaknesses of the student, and then develops a plan for both long term and short term improvement. This game plan is communicated through a comprehensive report to the student.
Scott's full swing teaching philosophy revolves around Hank Haney's swing plane theory. Scott's first goal is to properly diagnose the student's critical ball flight error. If the student slices the ball, Scott will zero in on the primary cause of that slice. If they hook the ball, he will find the reason for the hook. Or maybe the student simply hits a lot of fat or thin shots. Scott will take a look at the student's grip, stance, alignment, swing plane, etc. to identify the root cause of the issue. Once he identifies that cause, he looks to make an immediate correction of that ball flight error.
Scott then develops a long term plan for improvement for his student's swing. This plan is focused on finding a swing that allows the student to consistently achieve a sound position at impact.
Scott also offers instruction on the short game, putting, mental game and on course management. Scott offers cutting edge performance measurement applications that he has learned as a Hank Haney Pro Associate and through his attendance at Hank Haney's annual teaching seminars. Hank has passed on his knowledge to his instructors through the Hank Haney Pro Associate program. He acquired his knowledge from over 30 years of teaching experience along with teaching over 200 tour players, including Tiger Woods. This cutting edge instruction has been proven to help golf students lower their scores in a very short period of time.
Scott is now offering individual instruction by appointment. Group instruction and golf schools will be available starting in April. For more information regarding Scott and his teaching, please visit http://www.scottcolegolf.com or stop out and meet him at Olney Golf Park (http://www.olneygolfpark.com). All lessons are scheduled utilizing Olney Golf Park's online lesson management system.
###