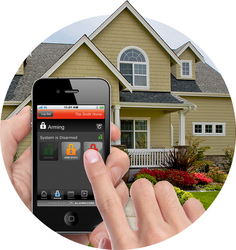 Vienna, VA (PRWEB) March 2, 2011
Leveraging innovations in wireless, web and mobile technologies, Alarm.com security systems offer consumers remote property awareness of what's happening when they aren't at home. Many people are concerned about criminal activity, vandalism and theft, but would also like to know about everyday events that take place in the home. Alarm.com-enabled security systems extend beyond traditional protection against intrusions and burglaries, by letting customers control their home alarm systems from afar.
Smarter security solutions will let you keep track of both alarm and non-alarm events in and around the property. Here are five tips to help you stay secure and stay connected to your home.
1. Choose a reliable home security system
Many alarm systems are not dependable and still rely on outdated security technology such as phone lines or a broadband Internet connection. All a criminal has to do is bring a pair of scissors along and snip the phone line to completely disable the security system. With broadband-based systems, a power outage or disruption to the connection can take the security system down with it. On the other hand, home alarm systems that leverage wireless GSM technology can protect the homeowner no matter what. If the power goes out, you'll still be protected. If the control panel is destroyed, safety is not compromised.
2. Look out for suspicious activity
Being a victim of a home robbery or intrusion can certainly be traumatic. To stay aware of any unexpected activity, use your home alarm system on a daily basis, even on-the-go. Set up schedules and reminders to arm the security system. Use free home security mobile apps to arm and disarm your system from afar. Regularly review an event history so you can spot irregular events and report them to authorities if necessary. Making sure you know what's happening at home when you're not there will help in reacting faster to alarming events should they occur.
3. Don't be surprised upon arrival at home
Knowing what's going on at home while away will help prevent unwanted surprises when returning. Nowadays, it's simple to use any Internet-connected computer or cell phone to control your security system. Place motion sensors in sensitive areas like children's bedrooms, safes, the medicine cabinet or the utility room. Then, set up email and text message notifications for real-time awareness of any motion sensor activity in the home. Sensors can also be used to detect leaks in the basement. Catching a small problem like a water leak early could prevent the catastrophe of a flood later.
4. Check in on activity, both inside and outside the house
Once you've left home for the day, view what's going on inside and outside the home with video monitoring solutions directly from a smartphone or web-enabled computer. Wondering what your teenagers are up to while you're gone? Or what the babysitter or cleaning crew is doing? Use security cameras inside and out for added peace of mind. With interactive video surveillance, watch multiple cameras simultaneously and even receive video clips via text or email when footage is recorded in sensitive areas of the home.
5. Know who's there when you're not
For homeowners with frequent guests during the day like the contractor or dog walker, use a home automation system to set up customizable user codes for them to lock and unlock the doors. Also create arming and disarming alerts to keep tabs on who's at the house, and when.
Make sure your home is safe to enter with a wireless security system that can be counted on for full-time protection and awareness. As a parent, safeguard young children from dangerous materials in cabinets or make sure the older kids are doing their homework. Beyond keeping an eye on everyday activity when away from home, use an interactive security system to alert you of behavior that concerns you, such as who is entering and exiting the house and what time the system is armed or disarmed. That way, you can worry less about surprises upon arrival.
About Alarm.com
Alarm.com Incorporated is the industry leading technology provider of interactive security solutions. Through advanced wireless monitoring and web-based services, Alarm.com protects and alerts hundreds of thousands of residential and commercial customers throughout the United States and Canada. Alarm.com's products and services are offered exclusively through a network of over 1,500 licensed and authorized Security Dealers. Alarm.com's corporate headquarters is located in Vienna, VA. For more information, visit http://www.alarm.com.
###