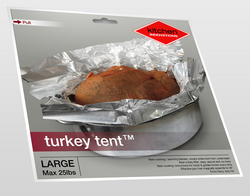 Toronto, ON (PRWEB) March 2, 2011
Kitchen Innovations Inc., a Canadian based designer and manufacturer of innovative patented gourmet kitchen tools has launched the Turkey Tent™ to compliment its already popular product line including the Gourmet Masher and Pastry Pro. These gourmet products will be featured in the New Product Section at the 2011 International Home + Housewares Show in Chicago from March 6-8 and will be shown at Kitchen Innovations Booth S4955.
Kitchen Innovations Inc. re-thought the design and the function of two of the most basic kitchen tools, a manual food blender and a pastry blender. With their soft ergonomic handles, rigid stainless steel frames, and clog free diamond shaped cutting blades, the Pastry Pro and Gourmet Masher offer unprecedented comfort, speed and texture control for all blending needs. These two gourmet products are now available under the President's Choice Label all across Canada with sales of over 3600 units per month.
"The Pastry Pro and Gourmet Blender are simply faster, cleaner, easier and more consistent than any other models we've ever used. When you're finished cutting with the Pastry Pro the ingredients are still cold, it's that fast! This is the same experience that's been reported to me by everyone who has tested the product. This is going to be a product that every baker in America is going to want when they find out about it", said Jeff Merrifield, Best Manufacturing Vice-President of Sales and Marketing.
Kitchen Innovations newest product, the Turkey Tent™, is destined for the same success as the Pastry Pro and Gourmet Masher. The Turkey Tent™ is the first product designed as a roasting and warming blanket for all poultry and meats. It acts as an insulator by locking in the flavor and retaining its moisture and tenderness whilst cooking on a BBQ or in a conventional oven. It is the best way to guarantee your turkey will be moist and golden brown every time. The patent pending Turkey Tent™ is constructed of extra heavy duty foil that will cover your pan liner and expand up to 36 inches to accommodate all sizes. When the turkey is finished cooking the Turkey Tent™ will lift your turkey from the pan with ease and there is no messy cleanup!
Kitchen Innovations Inc. designs and manufactures gourmet kitchen products available at specialty shops and retail stores across North America. It is Kitchen Innovations mission to bring kitchen products with functionally superior designs and ergonomics to today's' quality conscious consumers. Headquartered in King City, Ontario, the company can be found on the web at http://www.kitcheninnovationsinc.com.
###