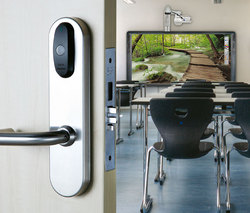 Our SALTO school clients never have to worry about lost keys or unauthorized access by former employees or students ever again.
Lawrenceville, GA (PRWEB) March 3, 2011
Acts of violence on school campuses around the nation have led to an increased focus on prevention and the failings of traditional means of security. Campuses, from K-12 to colleges and universities, are constantly changing environments and the hard-keyed security systems that most schools continue to use just can't keep up. New staff, students and visitors are always coming and going, all of them needing different levels and ranges of access. Meanwhile, re-keying each door lock whenever a staff member leaves or a key is lost or stolen takes time, costs money, requires labor and—most troubling—opens up a window of time in which students and faculty are at risk.
While electronic locks have addressed many of the problems of hard-keyed systems, they also bring with them their own set of challenges: hard-wiring every door lock is prohibitively expensive for tight school budgets, and they still require door-to-door visits in order to re-program each lock or pull data on access. It's traditionally been nearly impossible to keep track—in real time— of precisely who is present, where they are, and when they are there. As a result, electronic locks are typically only found in the corporate world, and have been seen as too costly and inefficient for the needs of schools and campuses.
In response to these issues, security professionals at educational institutions across the globe have turned to SALTO Systems and their SALTO Virtual Network (SVN)—a revolutionary, one-of-a-kind access control system that allows immediate, real-time updates to users' access rights—as a solution. Their unique system, based on radio frequency identification (RFID) technology, provides simple and efficient access control at a fraction of the cost of traditional electronic locks. As a result, the SALTO Virtual Network has been implemented in schools and campuses such as Oxford University and Sydney University Village as well as security-conscious locations like London's Heathrow Airport.
Utilizing a unique combination of online "Hotspot" locks and offline electronic locks, the system is linked together by the users' intelligent RFID key cards, which also act as 2-way data transporters. Signals from the central computer or server hosting the SVN database are instantly communicated to the key cards and online locks via a system of data gateways and range-boosting signal repeaters over the network, which allows for a range of coverage that is entirely up to the educational institution.
Updating system access takes place in real time, so adding or cancelling key cards or changing access rights for any user is immediate. From a central location, lock diagnostics can be performed, doors can be locked or unlocked with the click of a button, and audits of door access (who has accessed each door and when) can be run.
Kevin Shupenia, Chief Operating Officer of Logical Choice Technologies (a Lawrenceville, GA-based company on the cutting edge of educational technology), immediately recognized that this advanced RFID technology will have a huge impact on the safety of US schools.
"There's never been a simple, one-size-fits-all solution for schools," Shupenia says. "Standard electronic locks are an improvement over traditional hard-keyed locks, but that alternative involves installing new wiring and cables to every door on a school's campus, and that's often too expensive an option. In addition, both systems make the school's maintenance staff go through the hassle of visiting each door to re-key or re-program the locks, or even to find out who's been using the door. Something just as simple as a lost key card can cause a whole host of complicated problems. The SALTO Virtual Network eliminates all of that."
Shupenia further explains, "While a hard-wired electronic door lock can cost between $3000 and $4000, the SALTO system costs approximately $750 for a standard interior door. Moreover, the RFID technology allows immediate changes to access as needs arise. You can add or delete keys, pull access data and change users' access rights to any door in real time from one location. Our SALTO school clients never have to worry about lost keys or unauthorized access by former employees or students ever again."
It was a natural fit, he explained, for Logical Choice to partner with SALTO to bring this technology to US schools. "With our teams installing equipment in schools on a regular basis, we're very well-versed in the challenges that schools face with security. The SALTO system is so flexible in regard to what coverage is required by the school, how many doors need to be controlled within that coverage, and what access rights need to be granted to a wide range of campus population. I knew it was something that schools would be enthusiastic about. It's adaptable to the needs of any school or campus, and affordable enough to replace every keyed lock."
Logical Choice Technologies, with the SALTO Virtual Network, is poised to take school access control to the next level for K-12 and higher education campuses.
For further information on Logical Choice Technologies and the SALTO Virtual Network, visit http://www.logicalchoice.com.
###