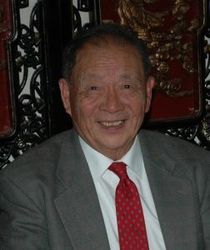 "A pioneer in the area of global hydropower, Alex Tseng's long and eminent career encompasses achievements as an entrepreneur, engineer, inventor, lecturer and educator.
Palo Alto, CA (PRWEB) March 2, 2011
Dr. Alex Tseng, head of engineering for ORENCO Hydropower and president of ORENCO, Inc., was named as one of the '20 Most Influential People in Dam Engineering.' The honor was announced in the January issue of International Water Power & Dam Construction, one of the industry's leading publications, and will be on its website http://www.waterpowermagazine.com.
According to the publication, the list, developed to celebrate the importance of the dam engineering sector, features 20 individuals who have made the biggest difference to the sector over the last 10 years. The IWP&DC editorial team and industry experts determined the list after reviewing nominations submitted by its contacts and readers around the world.
Dr. Tseng was recognized for his distinguished multinational career that spans 60 years. He was the driving force behind the design and development of the self-adjusting flood control gates that have been deployed on over 200 major hydro projects in China. These gates are rapidly becoming the standard means to both raise the level of existing dams and create impoundment facilities on rivers at low cost. Because of its lower capital and operating cost, this revolutionary technology is rapidly replacing Tainter Gates and rubber dams. Powered only by the pressure of the water, the gates are able to open during flood conditions and close when flood conditions have passed. Dr. Tseng has filed a patent on the Self-Adjusting Flood Gates. (For further information, please see: http://www.orencohydro.com/capabilities)
In addition to his achievements in dam engineering, Dr. Tseng has numerous other accomplishments as president of ORENCO (Oriental Engineering and Supply Company), a company he founded in 1979. ORENCO has been responsible for the engineering and/or equipment procurement of operating 46 hydro projects in the U.S., China and Latin America. These projects, which range from under 1 MW to over 30 MW, have included the development of new dams, addition of power generation capability to existing dams, retrofit/refurbishment of existing hydropower facilities, and addition of hydropower facilities to municipal water treatment facilities.
For over 30 years, Dr. Tseng has also been the key party integrating cost-advantaged Chinese turbines and generators for low-head dams with advanced U.S. control systems. In this role, ORENCO has been the primary importer and integrator of turbine/generators from several partners in China, all leading manufacturers. These systems' reliability has been demonstrated over decades of service in the U.S.
According to Carl Spetzler, Chairman of ORENCO Hydropower and Chairman and CEO of Strategic Decisions Group, the honor is fitting and well-deserved. "We are delighted that our friend and colleague Dr. Alex Tseng has been recognized with this prestigious international accolade," said Dr. Spetzler. "His long and eminent career encompasses achievements as an entrepreneur, engineer, inventor, lecturer and educator. Alex is a true pioneer in the area of global hydropower. We look forward to his continuing contributions and success."
Recently, Dr. Tseng expanded ORENCO's reach through new ventures and alliances. In 2010, ORENCO Hydropower was formed to focus on three areas of the U.S. hydropower business – project development, project management and portfolio fund management, in collaboration with Strategic Decisions Group and others. ORENCO Hydropower is committed to bringing low-cost renewable power generation capability to many of the 81,000 dams in the U.S. that have do not have generating capability. Dr. Tseng is responsible for the management of its engineering services, R&D and equipment procurement; and continues as president of ORENCO, a division of Tseng Enterprises, Inc.
ABOUT ORENCO HYDROPOWER
ORENCO Hydropower, Inc. develops small hydropower generation assets at existing dams and waterways that are low-cost and low-impact. The company assembles and manages a portfolio of hydro projects; and provides engineering, equipment procurement and financing for ongoing projects. Products and services include end-to end development of 1 MW to 50 MW hydropower projects; resale and integration of reliable Chinese turbines and generators to other hydro developers – at significant cost advantages; and partnering with small hydro developers to provide project financing and support.
Founded in 2010, ORENCO Hydropower brings together experts in hydro asset design and development, power markets, licensing and business strategy. In addition, key venture partners provide project financing. Based in Palo Alto, California, ORENCO Hydropower builds upon the expertise, experience and international business relationships of ORENCO, Inc., begun in 1979.
For more information, please contact ORENCO Hydropower by telephone toll-free at 650-475-4467, by email at info@orencohydro.com or online at http://www.orencohydro.com
###