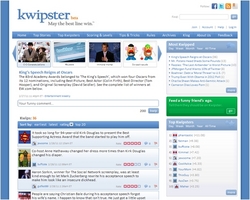 Los Angeles, CA (PRWEB) March 1, 2011
Who will be the next Johnny Carson? The next David Letterman? Chances are it will be someone who's a total unknown today. Someone who's not even working in a field where they can put their wit to work. Someone who just needs the right forum to showcase their comedic talent and provide them the exposure they deserve. Kwipster gives them this opportunity.
Launching today, Kwipster is the web's first central arena for the funniest among us to share their witty comments on the latest news, to see how those jokes (their 'kwips') get rated by the community, and to hopefully even get discovered. And in the meantime, to entertain the masses on a daily basis.
All site members (the 'Kwipsters') start out at the bottom, as unproven talents. As they begin posting kwips, they start ascending the Kwipster leaderboard and earning badges along the way, depending on how funny their kwips are rated.
Every Kwipster starts at Level 0 (Class Clown) and has the chance of rising to the top to Level 20 (Late Night Legend)...or dropping through the floor to Level -1 (Comic Sans).
Kwipster is not just for funny people; it's also for the 'less' funny people who like them. People who enjoy hearing jokes on all the latest news and the types of humor they see on their favorite late night talk shows. Kwipster provides them with a new, real-time outlet to make them laugh at any time of the day.
Kwipster is operated by a team of veteran web and entertainment professionals at Viral Ventures LLC in Los Angeles, California. Visit the website at: http://www.kwipster.com.
ABOUT VIRAL VENTURES LLC
Based in Los Angeles, CA, Viral Ventures LLC is an internet business venture specializing in creating useful and entertaining consumer services. The company's first project, Impruvia, was sold in 2010 before launch, and its latest project, Kwipster, launched in the first quarter of 2011.
CONTACT
Kevin Simms | ksimms(at)kwipster(dot)com | (323) 578-3853
# # #