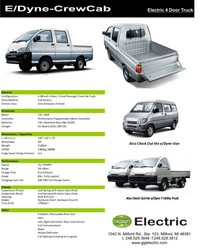 University capabilities for industrial collaboration will be greatly strengthened over the next few years through the funding of electric vehicle innovation and commercialization
Milford, MI (PRWEB) March 2, 2011
GGT Electric is announcing its national search to partner with two U.S. universities to engage in collaborative efforts for research and development of electric trucks, electric cars and electric delivery vans.
"GGT's future partners will search for improvements in the electric vehicle drive train space in the areas of low voltage motors, controllers, batteries and battery management systems," said Ray Leduc, chief operating officer and head technology engineer of GGT. "It is essential that business, academia and the government collaborate in order to accelerate the advancement of electric vehicle technologies."
Today, the announcement from the Milford, Michigan-based business said GGT company officials are actively seeking qualified academic partners to receive a complimentary electric vehicle to aid in the R & D process.
Interested universities applying for the program will be known for their work in EV research, or be prepared to develop expertise in the field, according to GGT officials.
"University capabilities for industrial collaboration will be greatly strengthened over the next few years through the funding of electric vehicle innovation and commercialization," said Leduc.
GGT was established in 2008 for the purpose of researching, developing and manufacturing neighborhood electric vehicles.
GGT officials hope the proposed collaboration with the select universities will "help advance the performance and reduce the cost of electric vehicles to make it a viable and economically competitive option globally."
GGT is known for its work in electric vehicle technology and manufacturing.
# # #