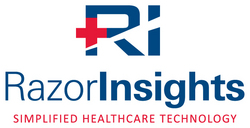 Our clients can know that they have already met the first step in achieving their stimulus fund payments
Kennesaw, GA (PRWEB) March 1, 2011
RazorInsights today announces that its ONE-Electronic Health Record has successfully obtained ONC certification in accordance with the criteria established by the Secretary of Health and Human Services. RazorInsights tested with InfoGard Laboratories, an authorized testing and certification body (ONC-ATCB), and secured 2011/2012 compliance as a complete EHR on all measures required for hospitals to achieve 'meaningful use.' This certification provides ONE-Electronic Health Record customers the opportunity to receive incentive payments through the American Recovery and Reinvestment Act (ARRA).
"We are very excited that ONE, our single-database EHR solution, has been awarded certification and that our clients can know that they have already met the first step in achieving their stimulus fund payments," said Reed Liggin, R.Ph., MBA, President of RazorInsights. "Even more rewarding, this certification validates that we are providing our hospital clients with all the necessary functionality for them to provide their patients with improved patient care and safety."
InfoGard, based in San Luis Obispo, CA, tested RazorInsights' ONE-Electronic Health Record on all 34 criteria points associated with achieving the ONC-ATCB stamp of approval. A certified EHR signifies that a hospital has a system with all the capabilities necessary to support their efforts in achieving 'meaningful use' and receiving incentive payments.
About RazorInsights:
Based in Kennesaw, Georgia (in the metro Atlanta area), RazorInsights is a new, dynamic healthcare information technology company. In keeping with the principle of Occam's Razor, they have created a simplified healthcare technology solution for hospitals called ONE-Electronic Health Record. Residing on a single, integrated database, this cloud-based solution offers a simple user experience with cutting-edge clinical tools and industry-standardized data. Hospitals can expect to improve their performance and bottom line with ONE from RazorInsights. For more information, visit http://www.razorinsights.com or call 770-308-4111.
About InfoGard:
InfoGard was founded in 1993 with a mission to provide accredited IT security assurance services to customers worldwide. Over the years they have expanded their security services by investing in multiple formal accreditation programs. They were recently among the first IT laboratories to be authorized by the Office of the National Coordinator to certify EHR systems. For more information on InfoGard visit http://www.infogard.com or call 805-783-0810.
# # #