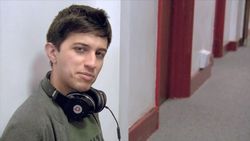 "People are often afraid to voice their dreams and goals out loud, worried that others might then be aware and judgmental when they fail. I know I was..."
Los Angeles, CA (PRWEB) March 1, 2011
This year actor Dennis Bovér may be known for a Windows 7 commercial that aired repeatedly in the fall of 2010, but thanks to a new marketing plan, he intends to be a household name by January of 2013. At the core of this daring new marketing campaign is the actual goal he decided upon and wants to share with the world. The goal, To be a comedic actor with a household name in two years, may be a demanding one, but in the unpredictable world of the entertainment industry, a realistic one. Cunningly taking advantage of the phrasing of the goal itself, he has launched a youtube show called, Who the Bleep is Dennis Bovér?! He intends to spend the next two years not only pursuing comedic roles in the traditional way, but also by way of his self-produced means. Among these are the aforementioned youtube show, touring colleges with a theatre company and a secondary new endeavor, standup comedy.
Dennis Bovér feels that taking this bold step in voicing his long-term goal may serve as inspiration, not only to other young struggling artists, but anyone with a dream. "People are often afraid to voice their dreams and goals out loud, worried that others might then be aware and judgmental when they fail. I know I was," Bovér says. "But the point of the goal is to give you purpose and if you only come close to achieving it; that's still something to be proud of."
New media opportunities are already a common tool to aspiring actors. With the internet emerging as a reliable medium for reaching audience, actors have been taking advantage of it by the masses. Producing one's web-series is now as common of an entertainment industry vehicle as its predecessor the, short-film. Dennis specifies the difference between his show and a web-series- "My show is all about answering the question in the title. I intend to get personal and share little pieces of information about me through comedic sketches and commentary, while asking for the viewers' support in reaching my goal."
Apart from this new show that he produces from his home in Pasadena, CA, he also tours colleges as a member of hereandnow Theatre Company. Being a member of this company for almost 8 years has offered him a continuous artistic outlet and the chance to perform all over the US. Recently Dennis appeared as a supporting character in the comedy "Zombie Drugs", which is currently in post-production and is set to premiere within the next two months.
For more information, visit http://www.dennisbover.com and be sure to subscribe to Who the Bleep is Dennis Bovér?! On youtube at http://www.youtube.com/dennisbover
###