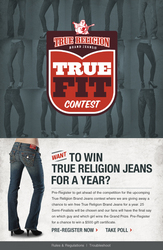 Vancouver, BC (PRWEB) March 23, 2011
True Religion has licensed 3 Tier Logic's suite of Facebook applications to drive fanbase and generate increased consumer interactions.
True Religion Brand Jeans of Vernon, California will be giving away a year's supply of jeans to two of its Facebook fans this spring. True Religion designs, manufactures and markets True Religion Apparel products, including its premium True Religion Brand Jeans. Its expanding product line, which includes high-quality, distinctive styling and fit in denim, sportswear, and licensed products, may be found in True Religion Brand Jeans retail stores, contemporary department stores and boutiques in 50 countries around the world. 3 Tier Logic, a full service digital marketing and social media software company, worked with True Religion's marketing executives to build and launch a custom User Generated Content promotion. True Religion wanted an app that would engage their 235,000 + fans in the spring season, generate brand awareness and gather customer profiling data for future targeted communications.
Fans can take part by visiting True Religion's Facebook fanpage and uploading a photo of the best place their jeans have taken them. 3 Tier Logic's Content Management System will be used to ensure the photos are appropriate before they are published to the custom "True Fit" tab for the public to view. In the voting phase of the contest 3 Tier Logic's Facebook app suite (and a panel of judges) will be used to narrow down the entries to 25 male and 25 female finalists. Fans will then be encouraged to return to the fanpage and select their favourite entry via the Voting module. The winners will be claiming the grand prize of a year's supply of True Religion Brand Jeans. The contest is open for entries from March 21, 2011 for 4 weeks.
Robert Craig, CEO for 3 Tier Logic says, "The fastest growing, popular and engaging content is generated by individual consumers – Facebook is based on consumer generated content. User Generated Content increases the interactivity of a Facebook page, visitor loyalty and repeat visits, all of which ultimately put the company at the top of a consumer's mind. In addition the more time a customer spends on a brand's Facebook page the more likely they are to recommend the brand to a friend."
3 Tier Logic provides global and regional brands with custom applications and strategic services that focus on customer acquisition and retention. 3 Tier Logic's digital strategies and solutions empower brands to engage consumers, facilitate meaningful interaction and drive ROI from individual or multiple digital channels. 3 Tier Logic specializes in Facebook, Mobile, Web and Email strategies and applications. Please visit http://www.3tierlogic.com for more information.
For additional information, contact:
Marie Bailey
3 Tier Logic
1.877.623.8437
http://www.3tierlogic.com
About True Religion Brand Jeans
Jeffrey Lubell founded True Religion in 2002 with the intention of redefining premium denim. His vision was to make quality, American-made, authentic, timeless, great fitting, 1970's inspired jeans wear, with a trendsetting appeal for today's consumer. Today, True Religion Brand Jeans is known not only for its denim, but also for its knit and woven sportswear, such as t-shirts, western shirts, sweatshirts and sweatpants that all have that vintage feel.
About 3 Tier Logic
3 Tier Logic is a full service digital marketing and technology services company that enables organizations to grow their customer and prospect communities through anywhere-anytime communications. 3 Tier Logic's proprietary solutions empower organizations to deploy and track interactive marketing content through multiple channels including the web, mobile, touch screen kiosks, Facebook, Twitter, and email.
###