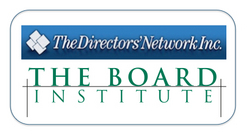 In this highly volatile economy, accountability and transparency are essential. Boards of Directors must independently gage their effectiveness and demonstrate diligence in corporate governance," said Susan Shultz, President, The Board Institute
New York, NY (PRWEB) March 2, 2011
The Board Institute, Inc. (TBI) and The Directors' Network Inc announce an alliance merging board of directors online benchmark evaluation tools with subsequent training to achieve excellence in corporate governance.
TBI is the premier provider of independent, web-based 360° evaluation tools for public and private organizations to help directors improve, evaluate and benchmark their boards, committees and directors. TBI board assessment tools will provide an important foundation for the Directors' Network in its provision of customized education and board training by helping to identify individual needs of the boards it serves
Based in New York, The Directors' Network is the leading U.S. provider of customized board of directors' education and training ranging from governance compliance to helping a board navigate its important roles with respect to risk management, strategy and succession planning. "We look forward to a most productive affiliation with TBI," said Stephanie Joseph, CEO of The Directors' Network. "This is a highly synergistic partnership," Joseph added, "and will allow us to provide more targeted, customized educational and training services to the boards of our client corporations."
The Directors Network board education programs are tailored to industry specific and competitive needs such as a board's role in development of strategy, improving decision making processes, enterprise risk management or ethics and compliance. Programs can also include earnings quality, crisis management, internal control concepts, antifraud programs and controls, international financial reporting standards and even succession planning.
TBI's customized, 360° evaluation and educational tools, developed in cooperation with leading governance experts, highlight strengths, best practices, regulatory and exchange mandates, and identify areas to improve. The New York Stock Exchange, the Security Exchange Commission and most board charters now require annual evaluations for boards of directors and committees. Shareholders are more likely to invest in companies conducting these evaluations. Thus, performance evaluations have become the norm - 96% of S & P 500 boards now conduct evaluations.
"We are delighted to partner with The Directors' Network in this important effort. In this highly volatile economy, when accountability and transparency are essential, and directors are increasingly targeted, boards must be able to independently and effectively gage their effectiveness and demonstrate their diligence," said Susan Shultz, President, The Board Institute. According to Joseph, "We are now even better positioned to provide the help boards need to ensure effectiveness, good governance, and alignment of culture and leadership to execute strategy."
The Board Institute provides the only independent, board-driven, objective, confidential, and web-based evaluation and education tools for boards of directors. Products include The Board Index™, The Audit Committee Index™, The Compensation Committee Index™, The Nominating/Governance Committee Index™ and The Director Index™. The Indices are completed anonymously by board members, and, at their discretion, those who work closely with the board. They are built on a technology platform that provides scores, variances, ranges of responses, best practices and anonymous, individual comments to enhance board governance. The front end survey takes 15 to 20 minutes to complete. Results are immediate, validated by leading survey experts and available on-line or in print.
The Directors' Network will facilitate the board discussion that reviews results of The Board Institute evaluations and will use the information to formulate a customized board education program. This board of directors training better prepares directors to manage external or internal challenges: media scrutiny, pressure from institutional investors, shareholders, hedge funds and short-term investors, or drastic market fluctuations within a given industry.
About The Board Institute
The Board Institute helps public and private companies assess and enhance the overall effectiveness of their boards by focusing on structure, composition, the role of the directors and board leadership evaluation. Questions, analysis and best practices were developed in cooperation with leading experts in corporate governance - directors, CEO's and financial, legal, governance, 360° evaluation feedback, and survey research experts.
The Board Institute provides independent, comprehensive, on-line, customizable, enterprise risk management solutions to help boards become more effective. Rather than focus on external metrics and compliance mandates, TBI benchmarks the inner workings of a board to focus on areas they can control now. Our board evaluation tools are director-driven, web-based surveys and analyses that validate good boards, highlight strengths, reveal barriers to effective governance, and, in collaboration with leading board members and governance experts, provide information about response ranges and private commentary as well as pertinent rules, regulations and best practices for the approximately 70 issues addressed in each Index. For more information, visit: http://www.TheBoardInstitute.com
About The Directors' Network
Since 1994, The Directors' Network has provided customized on-site education for boards of directors, committees and executives to prepare them for their roles and responsibilities. The board of directors' training addresses specific needs and enables boards and management to work together in the pursuit of effective corporate governance.
Continuing education programs for board of directors include comprehensive financial literacy education and enterprise risk management from both internal and external challenges. Board of directors education programs are tailored to industry specific and competitive board needs such as a board's role in development of strategy, improving decision making processes, enterprise risk management or ethics and compliance. Programs can also include earnings quality, crisis management, internal control concepts, antifraud programs and controls, international financial reporting standards and even succession planning. For more information, visit: http://www.DirectorsNetwork.com
# # #