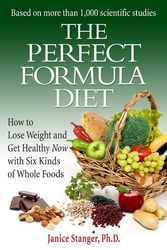 On balance, the rewards of a vegan diet far outweigh the challenges that respondents describe. A totally plant-based diet is an ideal that is easier than some might believe."
San Diego, CA (PRWEB) March 2, 2011
2,068 vegans from the United States and around the world candidly shared the joys, rewards, and challenges of their plant-based food choices in a first-of-its-kind survey. This study, called Vegan From the Inside, demystifies a plant-based diet. Data show healthy eating can be enjoyable, satisfying, and no harder than any other eating choice.
Respondents, who had all been on an animal-free diet for three months or more, answered questions and wrote in over 100 pages of comments. Janice Stanger, Ph.D., author of this survey and of The Perfect Formula Diet, notes "On balance, the rewards of a vegan diet far outweigh the challenges that respondents describe. A totally plant-based diet is an ideal that is easier than some might believe."
Dr. Pam Popper, Executive Director of the Wellness Forum, observes the significance of survey findings: "Finally, some documentation showing what those of us who have been teaching people to adopt a plant-based diet for years have known all along. The diet is easy, people love it, they get great results, and they generally stick with it."
Survey data repudiate six myths about 100% plant-based diets. Myth one is that vegans are pale, weak, and unhealthy because their diet lacks protein and other vital nutrients. In fact, over two out of three respondents said they became healthier after starting a vegan diet. Only 1.6% reported their health became worse. Fifty five percent noticed their energy level improved after going animal-free, while barely 2% said their energy declined. 64% rate improving or maintaining health as a very important reason to remain vegan.
Myth two is that a vegan diet has too many "carbs" to be effective for weight loss. Yet after transitioning to plant-based eating, 42% welcomed weight loss and 36% remained at their initial ideal weight. Only 5% gained weight. These results are consistent with numerous other studies that show those on plant-based diets are, on average, leaner than people who eat meat, and also have an easier time keeping weight off.
Myth three is that a vegan diet is boring. This idea is not supported by the survey finding that 97% of respondents enjoy the food on a vegan diet and 94% want to stay on a plant-based diet the rest of their life. Closely related, myth four is that a vegan diet is all about deprivation and lower quality of life. Respondents noted fulfilling results of their eating choices, such as enjoying cooking more (73%), making a difference for animals (91%) and the environment (86%), and feeling more spiritual (42%).
Myth five is that a plant-based diet requires significant discipline and is difficult to maintain. The toughest aspect of a plant-based diet is the initial transition. 64% noted this first phase took some effort. Yet 61% of respondents observe staying on a vegan diet long-term is effortless, with 3% saying it takes a lot of effort. Data indicate that the longer a person is on an animal-free diet, the easier it is to stay on this eating plan.
Myth six is that vegans can't enjoy eating out and other social get-togethers. While these issues can pose challenges, many respondents have developed strategies to get food they like in restaurants and build resilient social bonds. No survey participants considered changing their diet because of these issues. Several noted that as plant-based eating is becoming more popular, finding vegan food is easier and others are curious about their eating choices.
On balance, survey results indicate people who choose plant-based eating are happy, energetic, healthy, fulfilled, and want to remain vegan. As one respondent commented, "Going vegan was the best thing I ever did!" Another wrote in, "Becoming vegan is the single most important choice I've made for my health and well-being as well as for animals and the planet." This study's state-of-the-art information may provide reassurance for people to at least try a healthy, plant-based diet.
Download full survey report here.
###